The Institute for Contemporary Art Miami boasts an impressive permanent collection showcasing commissioned works by some of today's leading established and emerging artists. Fire Figure Fantasy is an inspiring collection of art that examines existent themes of human identity, new technology, and socio-cultural concerns. Well-established as stewards of artistic conservancy, ICA Miami brings together national and local talent whose works represent the museum's mission of furthering artistic advancement.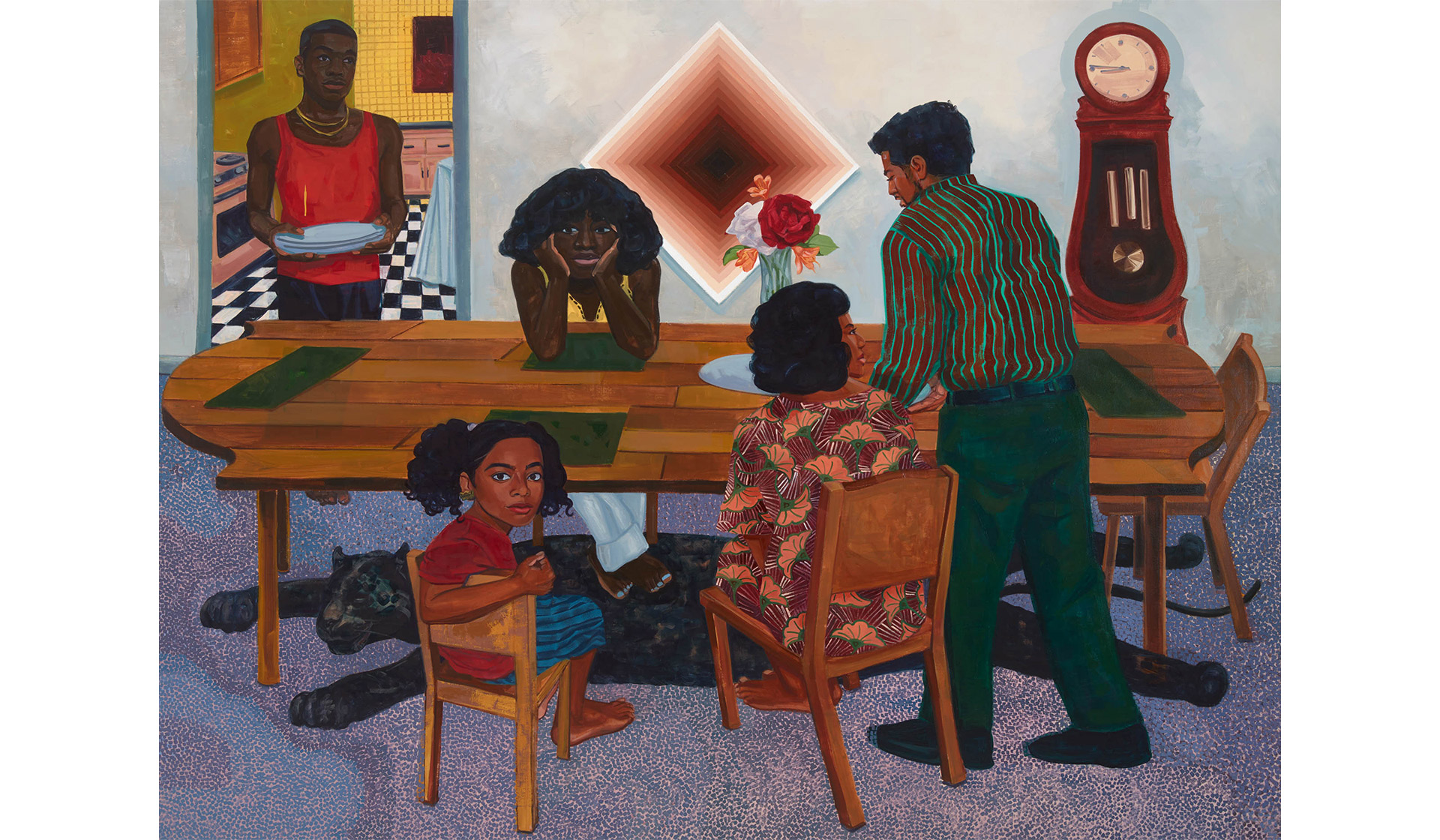 The exhibition presents a wide range of mediums and features work using both traditional and more experimental art practices. The art on display demonstrates a diverse array of technical dexterity and artistic skill, providing visitors with an insightful look at contemporary art as it exists today. In Fire Figure Fantasy, we see the culmination of this effort in an exhibition that connects with the diversity of today's art audience, by exposing them to art that reflects themselves and the changing face of the industry.
One important focal point of the collection is the conversation surrounding race and identity. The photographic work of Melissa de Oliveira shows portraits of the human form whose subjects are men of color, shining a light on their lack of representation in portraiture. Other artists like Arthur Jafa also explore this concept in "LeRage (2017)", his large-scale imposing cutout image of classic comic book character the Incredible Hulk, by touching on the idea of race and representation in popular media. Jafa's work looks at the lack of color and ethnicity within visual culture. Also challenging some of today's social, political, and ideological realities is the work of Brazilian born artist Jonathas de Andrade, which is one of the first pieces you see in the exhibition space. "Cartazes para o Museu do Homem do Nordeste (2013)", is a conceptual art installation that displays the visage of working-class minority men using photographic and textual documentation.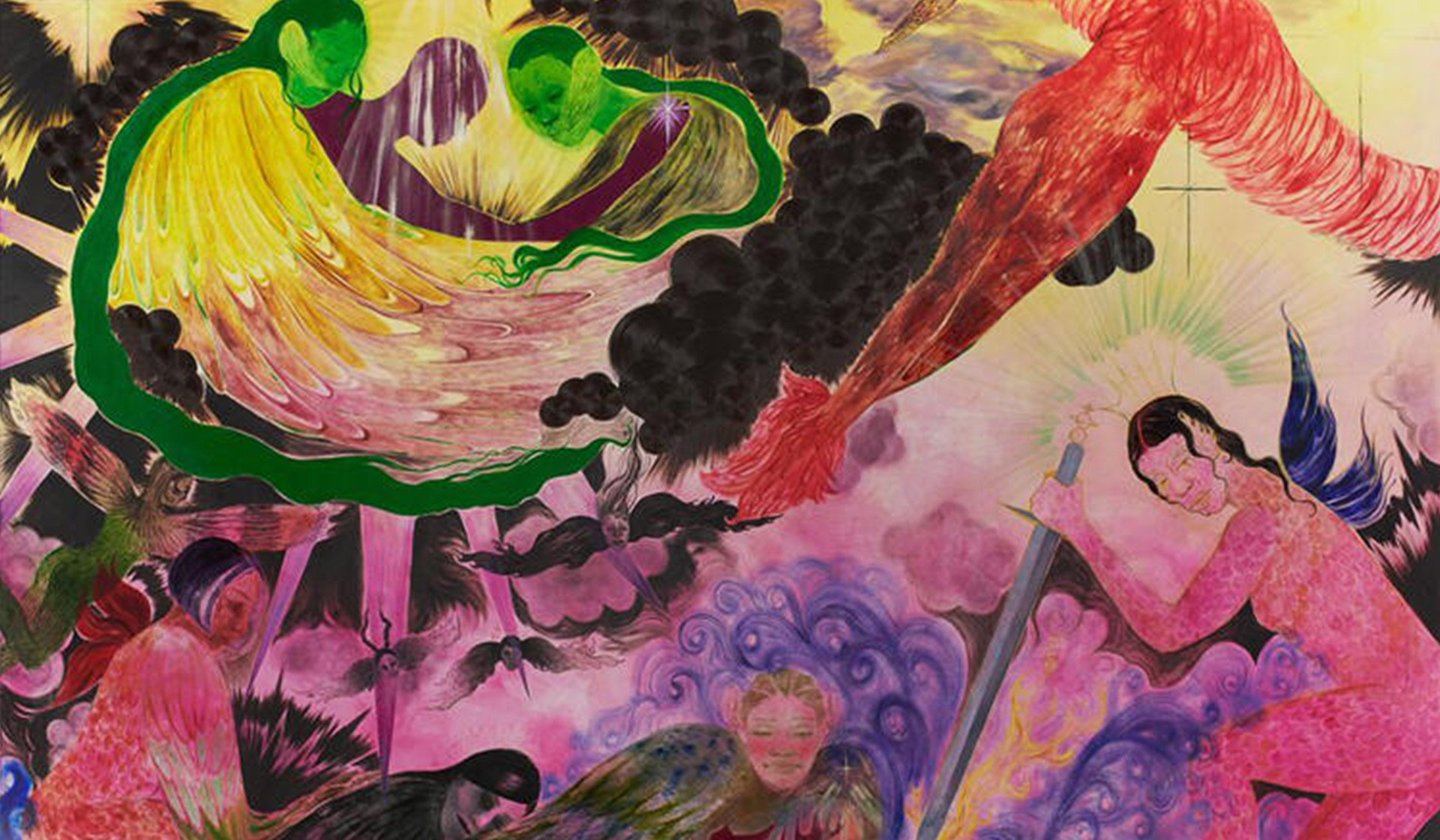 Identity comes back into the conversation again in terms of the feminine experience. "Ginger Locks (2021)" by painter Ewa Juszkiewicz takes on gender and power constructs, with a portrait of a woman whose face is completely obscured by an unnatural mass of hair. In this portrait the subject's exaggerated hairstyle repels cultural norms of western beauty standards with its eccentricity. Also defying contemporary ideas of female beauty are Louise Bonnet and Christina Quarles, who's works examine societal preconceptions of the female form by challenging conventional portrayals of women.
As you move through the exhibition space you cannot help but notice the recurrent use of a typeface in many of the pieces on display. One in particular that commands attention on its wall is "Harvest (2010)" by artist Xaviera Simmons. Simmons's piece is a conceptual installation made up of 231 individually hand-painted wood panels in acrylic paint that cover the wall in an array of handwritten verbiage. Text can be seen used again and again by artists like Sable Elyse Smith, Lauren Halsey, Paulo Nazareth, and Alfonso Gonzalez Jr., who also rely on the use of words to convey the meaning of their work.
Compelling you to come closer are the very striking paintings of the late Carlos Alfonzo. The large-scale pieces are dark and complex with deep tones and layers of texture. Full of visual language, they mimic the painter's feelings and state of mind during the final days of his battle with AIDS. All from Alfonzo's last period of work, include pieces that have yet to be presented publicly since the artist's death in 1991. Alfonso lived in Miami as an "artist of exile" after leaving Cuba, and some of his work can still be seen around the city today. Alfonzo's work and its deep connection to the city of Miami represent ICA Miami's continued championing of the community.
ICA Miami has long supported Miami's artists and promoted the city's dynamic art culture. Fittingly, the show features Miami artists like Jared McGriff, Tomm El-Saieh, Amani Lewis, and Hernan Bas, among others. Showcasing some of the most notable names in contemporary art, the show encourages public engagement and artistic appreciation. Fire Figure Fantasy features a number of newly commissioned works by the museum which will be on display for the first time and is ICA Miami's first major showcase of its permanent collection.