Below is an exclusive, online-only piece from the Design District Magazine's Spring 2019 issue.
Stuart Parr is a modern-day Renaissance man whose list of awards and accomplishments is long, varied and enviable. Well known for his architecture and design, Parr created the Tribeca loft of one's dreams to multiple accolades, curated iconic furniture exhibitions, and is considered the utmost expert on modernist designer Warren MacArthur. His side gig? Producing hit movies like "8 Mile" and managing award-winning artists. A true polymath, he has also amassed a collection of the world's coolest cars and motorcycles. His love of all-things-with-an-engine has led to the 2018 BORN award for Mobility - and his work with MV Agusta. In light of the upcoming Miami Concours, who better to discuss collecting cars and bikes with than Stuart Parr?
How old were you when you first fell in love with cars and motorcycles?
I must have been two-years old. I adored cars and could name them all just about as soon as I could speak. I first drove in California and learned by stealing the family car late at night — I must have been 12 or 13. My first car was a 1978 VW Rabbit, it's all I could afford. My first bike was a black and gold 1971 Triumph T120 — what a gorgeous machine.
When did you realize they could be collected?
I realized that cars and bikes could be collected rather immediately, I was young...it struck me that I wanted cars and bikes with the same compulsion that kids wanted baseball cards. I always gravitated to art in all its forms.

What makes a car or bike collectible to you – is it scarcity, an emotional connection, its design, etc.?
It's a combination of all of those elements – it's an affinity for something that you see once and never forget.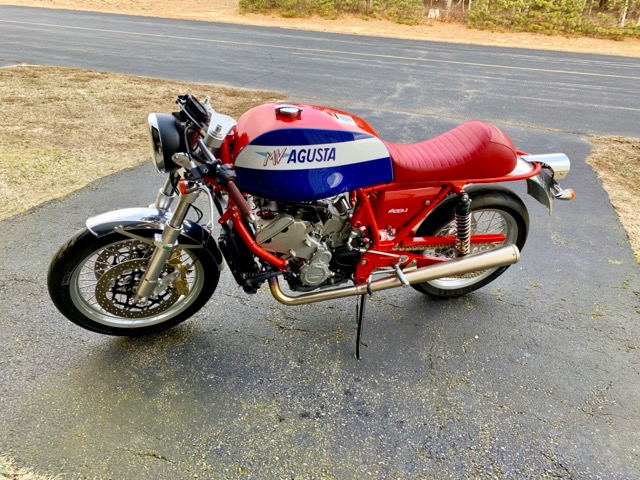 (Pictured above: 2019 MV Agusta Tributo Stuart Parr Edition)
A lot of people think of a "sportscar" when they think about a collectible automobile, but that's not always true.
Sportscars comprise very little of my appreciation and some of the greatest automotive designs are outside the realm of sportscars. One of the most iconic Sports/GT cars of all time, the Aston Martin DB5 was even made into a station wagon — great design comes in many packages.

What's your all-time favorite bike?
I'm passionate about MV Agusta. Their ethos is so steeped in fantastic design that just happens to be synchronized with incredible performance. MV Agusta is responsible for the most Gran Prix wins in the history of motorcycle racing. They are stunning to take in as works of art and incredible to ride.
Do you drive the cars you collect?
No, I drive the sh*t out of them. They are built to enjoy—how could I not? The only thing better than looking at a beautiful object, is driving it at full capacity.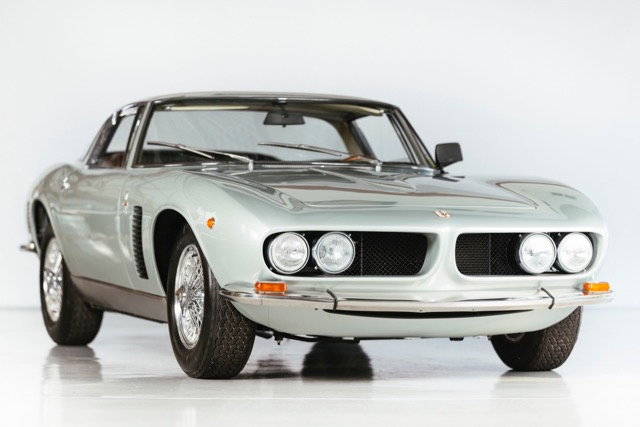 (Pictured above: 1967 Iso Grifo Series I Coupe)
You've got an extraordinarily diverse round-up of professional experiences – is there a through-line that runs through them all?
All involve great passion for quality and beauty - it's really a simple standard.

You like innovators – your collection of Marc Newson or your work with Eminem illustrate that you value people advancing the conversation. Who is doing that now with cars? With motorcycles?
It's what I'm trying to do with the Stuart Parr Collection.
You have presented Newson's work alongside a vintage car – what was the dialogue for you between those objects?
The point of that is that each holds its own as great design - as a paradigm of high quality and timelessness.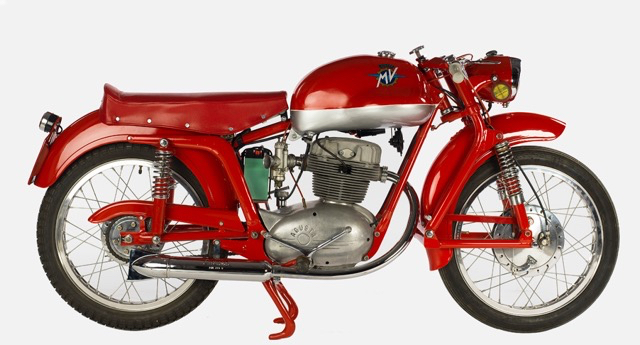 (Pictured above: 1954 MV Agusta 175 CS Sport)
You have some of the friendliest-looking cars ever designed in your collection. What's that about?
Resort cars of the 1950's and 1960's simply exude a sense of joy—they transcend a care-free feeling of being on a luxurious holiday. 

Tell us about the two small "pickup" trucks. They look like they have a story to tell.
The Honda Vamos is a fantastic piece of Japanese design that actually has a smile built right into the front of it. It's a 4-seat convertible pick-up…when was the last time anyone produced that? The Ape and the Calessino Rickshaws as well. They're purpose-built utility vehicles that just happen to also be brilliant pieces of design.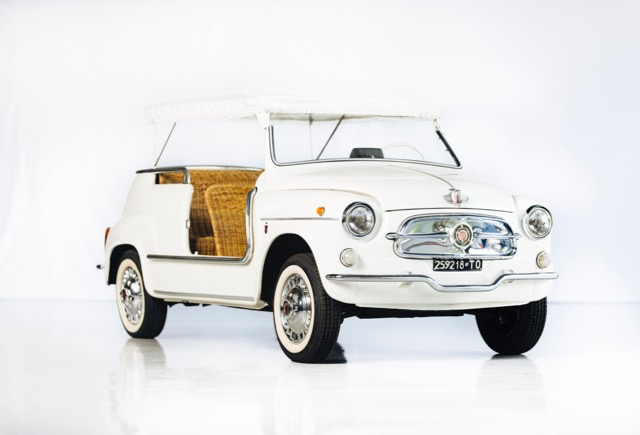 (Pictured above: 1958 Fiat Jolly 750 Abarth)
Finally, would you be comfortable giving us some pricing on the vehicles in the Stuart Parr Collection?
My perspective is that there needn't be a hierarchy on great cars or bikes. We offer a range of fantastic vehicles across the board: from a 1954 Piaggio Callesino Rickshaw priced at $35k, to a one-off Abarth 750cc Fiat Jolly that was single family owned its whole life - a museum piece with the best provenance, for $275k. At the upper end of the spectrum, some of my favorites are Iso Grifos and Bizzarrinis…our Silver 1967 model is stunning and a special car, having appeared in the 1970's Carlo Ponti produced film, "The Violent Professionals", a restored car that is so chic and a blast to drive—that's priced at $595k.
To explore the entire issue of the Design District Magazine's Spring 2019 issue, click here.