Long-time Miami Design District denizen, designer Luis Pons, has just unveiled Torii Pod, a clever new social-distancing solution for restaurants and other public gathering spaces. So much more appealing than the plexiglass options that have popped up everywhere in the age of COVID, these free-standing, adaptable screen systems create barriers between small groups as they, say, enjoy dinner and cocktails.
Pons's Torii Pods are inspired by the torus, an archetypal geometric shape derived from a circle revolving in a three-dimensional space. It is also, as some believe, the shape of the human aura and the unending flow of universal energy. Pons has worked with torii structures in the past, but his latest iteration is decidedly more utilitarian, though equally seductive. As the prototypes are set to be installed in key locations throughout the District, we reached out to Pons to learn more about this intriguing form and the thought process behind it.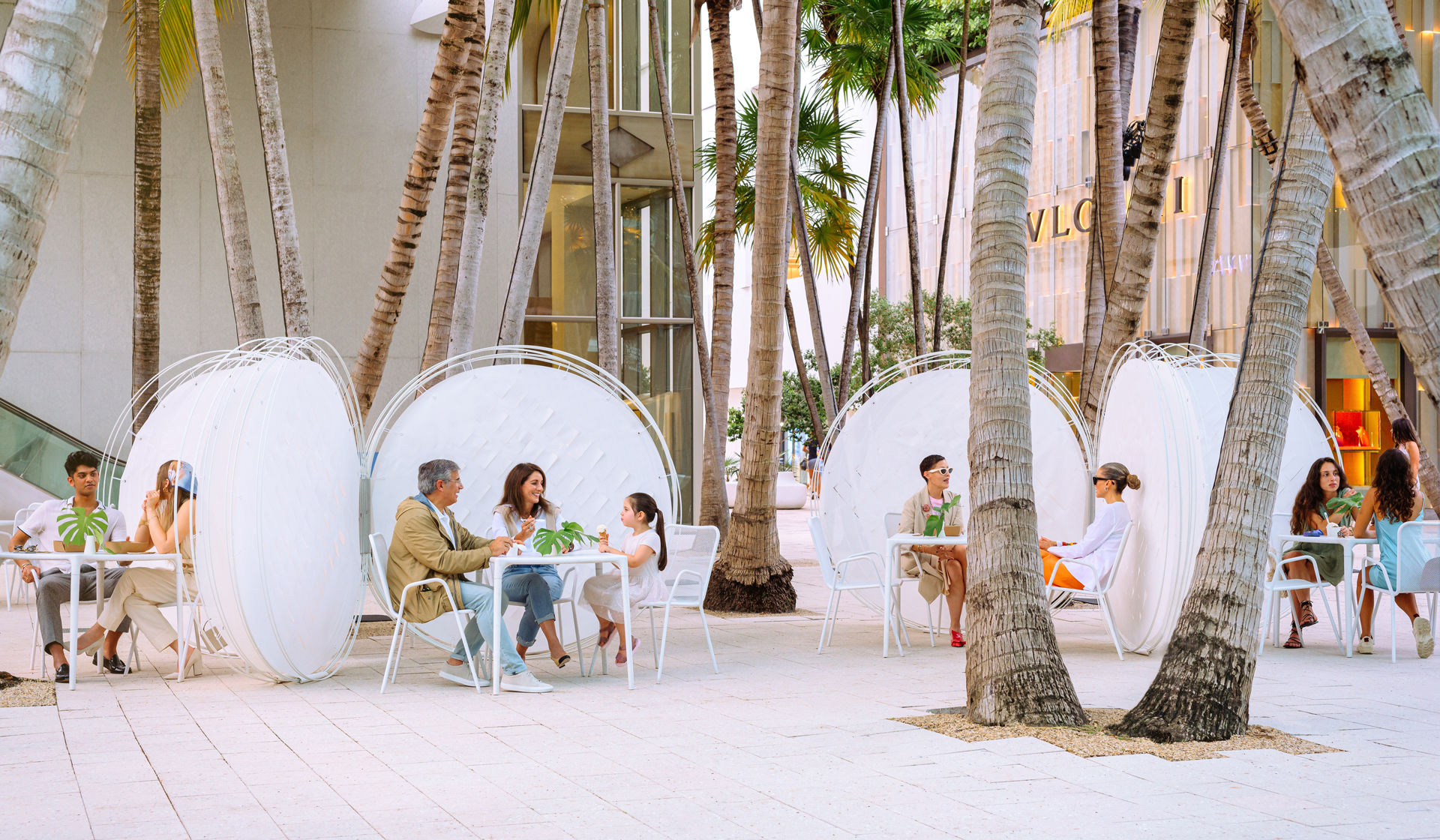 The origin of the Torii Pod design pre-dates COVID and the general tumult of 2020, but even a year ago you were thinking about the need—both as a society and as individuals—for healthier living systems and a more harmonious way of living. How have these concerns evolved in your practice over the years?
My first Torii was originally an attempt to help people explore their energy and cultivate inner peace. I wanted people to discover the meaning of the torus pattern and inspire them to find unity, balance, and harmony. In today's world, distractions and unnecessary desires have taken over our lives. I want people to look inside themselves instead of outside. I want people to become more aware that where they place their attention informs how their energy flows, and vice versa. Torii is a pattern that exists in all things in the universe. Why not follow its flow, its cohesiveness, and unity? More than ever, we are in need of togetherness, inclusion, and consciousness.
In my practice, I make a conscious effort to gain perspective, see reality, and identify what truly matters. This has been the case since I started my career. I have always wanted to make designs that enhance and bring true value to people's lives. I care about creating authentic content that reflects the context and time in which the project takes place—simple solutions that don't require lots of money and that adjust to the available resources.
The era of COVID sparked a new purpose for the original Torii concept. How did the idea to use the form as a foundation for social distancing screens come about?
I was invited to design a new glamping hotel, and the main pavilion of the property was a multi-use space. In order to fit the program and articulate the space, I proposed to use two Toriis with translucent panels to layout the different areas in the program. Torii allowed me to separate, add scale, and bring proportions and intimacy to each area of the pavilion. It was important for us that each area would have its own unique character. As a result of this project, we understood that Torii offered an alternative solution for spaces in need of social distancing dividers.
When will you start testing the prototypes, and what will be the measures of success?
We just started testing them in the District's Palm Court Plaza, in front of MadLab. If people feel safe, comfortable, and happy—and that translates into increased revenue for the operators—then the design is a success.
Today, at least in the US, nearly every human endeavor bears a political aspect. Do you feel that your work is a political act? Do you feel that design is an innately political act?
The answer to your question is embedded in the etymology of the word political. The word is derived from the greek polis, which means a body of citizens. You cannot bring a group of citizens together without it being a political act.
What are your strategies for navigating the turmoils of the day? Where do you go or what do you do to find balance, inspiration, and hope?
I work on keeping my attention where I want it to be and avoiding distractions. I work on intentionally organizing my thoughts. In order to do so, I practice Kriya Yoga, meditation, and the Wim Hof Method on a daily basis. The three practices involve conscious breathing, visualization, sound vibration, and some reading. The true work begins when I finish the practice and begin integrating it into my daily life.
What is the best piece of advice you've received—that you actually follow—whether professional or personal or both?
Always be grateful and always approach the world with gratitude.
What's next for you? Any projects in the works that you can share?
We are exploring projects involving tiny homes and low-income housing. We continue designing objects and furniture and are currently working on two residential renovation projects.