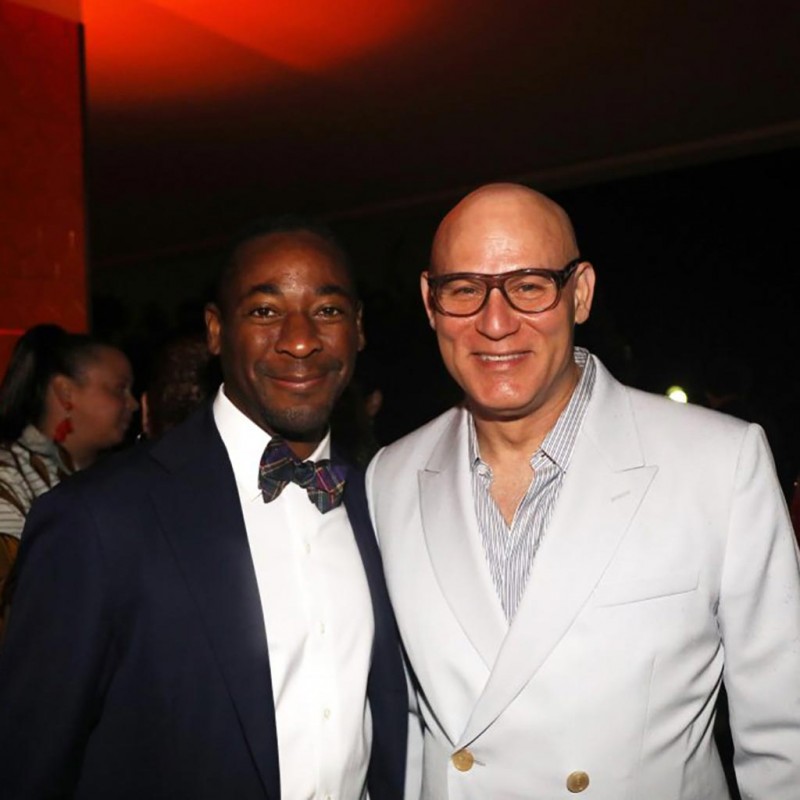 Miami Developer Craig Robins Is Having a Banner Year, and the City's Art and Design Scene Is Benefiting
Katya Kazakina
The man behind the Design District sounds an upbeat note for the city's cultural cachet.
The Design Miami fair tent is up in South Beach. Across Biscayne Bay, a new Louis Vuitton store for men is ready to welcome well-heeled customers with a striking chessboard-inspired installation out front. Nearby, at the landmark Moore Building, where a sprawling Zaha Hadid installation stretches its tentacles from floor to floor, paintings by in-demand Black artists have been installed for the latest iteration of Jeffrey Deitch's "Shattered Glass" exhibition. Anticipation is in the air.
The man behind all this—and much more, at the intersection of art, design and real estate in Magic City—is Craig Robins, founder and CEO of Dacra Development, cofounder and co-owner of Design Miami, and the impresario behind the Miami Design District. Over the past two decades, Robins has transformed the city's Wynwood neighborhood from a gritty warehouse district to a luxury commercial hub hosting the likes of Céline, Alexander McQueen, and Fendi. He has made it the home, too, of his estimable private collection, displayed at Dacra HQ. And throughout the development's 18 square blocks, Robins has installed sculptures and engineered collaborations with artists like John Baldessari, Virgil Abloh, and Urs Fischer.
Few people have more at stake than Robins as the hordes descend on Miami for the December bacchanal that is Art Basel Miami Beach. The annual rhythm of the largest contemporary art fair in the U.S. was interrupted by the pandemic, and Art Basel's first fair in Miami since 2019 arrives just as a new Covid-19 variant is threatening to undermine the return to normalcy. But there's no signal that anything is slowing down, with a docket full of receptions, private dinners, collaborations between artists and celebrities, and fashion shows. This year, NFT artists and crypto millionaires will rub shoulders with Goldman Sachs bankers. VIPs have already put dibs on works by the hottest artists before the main fair opens on December 2.
"I think this year's Art Basel will be as big and as good as ever," said Robins. "I need a jet pack that I can put on my back and fly from location to location."
Some events will be bittersweet, though. On Sunday, the fashion and art worlds were shocked to learn about the sudden death of Virgil Abloh, creative director of Louis Vuitton, at age 41. He had been battling cancer privately for two years. Abloh's latest collection, set to debut in a live fashion show on November 30, was one of the highlights of the week. Abloh's mixed-media sculpture Dollar a Gallon III (2019), which depicts a Sunoco gasoline sign, is installed a block from the new Vuitton boutique, and monumental sculptures sporting his spring/summer 2022 designs populate the exterior.
"We lost a great visionary," Robins said. "This week, everything is going to be an homage to him and celebrating his life and creativity."
Many of those celebrants will be doing so for the first time as Miami residents, rather than visitors. The city, whose mayor famously rolled out the red carpet to tech firms, has benefited from the pandemic's upheaval, as the wealthy and the young flocked there in pursuit of its lower taxes, warm climate, and permissive lifestyle.
"It was crazy," Robins said in a recent interview. "During this period, a lot of people decided to make Miami their residence. They found that this was like an oasis. And so that changed the landscape."
Robins's Dacra benefited, too. Despite being closed for four months due to lockdowns in 2020, the company did as much business as in 2019. This year, his sales hit the annual level within the first two quarters, and "what happened through June has continued every month since," Robins said. "What's interesting is that we had no international tourism, no South Americans, and we still grew, with just a domestic population."
Catering to residents and visitors alike, the Design District is almost fully rented. During the fair, the few available storefronts will be occupied by blue-chip gallery pop-ups, including Mitchell-Innes & Nash from New York and Goodman from Johannesburg. Some are returning for the second year, having seen sales and success even when Art Basel was canceled last year.
Robins's contribution to Miami Art Week 2021 is a mini-retrospective of works by John Baldessari, originally planned for 2020 but held over. A major collector of Baldessari's conceptual works, Robins has installed 45 pieces around his office in the Design District, open to Art Basel VIPs. The works range from the early paintings from the 1960s to those created in years leading up to the artist's death last year.
Robins began collecting Baldessari in the 1990s. At the time he was buying works by young California artists who were Baldessari's students at CalArts. Always attuned to opportunity, "I realized that compared to its importance, his market was not that strong. And so for years I just kept collecting," Robins explains. "My goal is to find artists that are really important that I can collect in depth. And I think John is probably the best example."
In addition to the Baldessari works, Robins is also showing a sampling of works from his private collection, including pieces by Tschabalala Self and Karon Davis. Some he acquired during the pandemic, including an installation by German conceptual artist Jana Euler.
Already a cultural destination thanks to Art Basel, Robins's development and Miami's newcomers are helping transform the city. "Good things are happening, you know," Robins said, pointing to neighborhoods experiencing a knock-on effect. "There's Little Haiti, there's Midtown, there's the Brickell Avenue area, Coconut Grove. A lot of different areas in Miami are becoming their own really cool ecosystems," Robins said.
ORIGINAL SOURCE