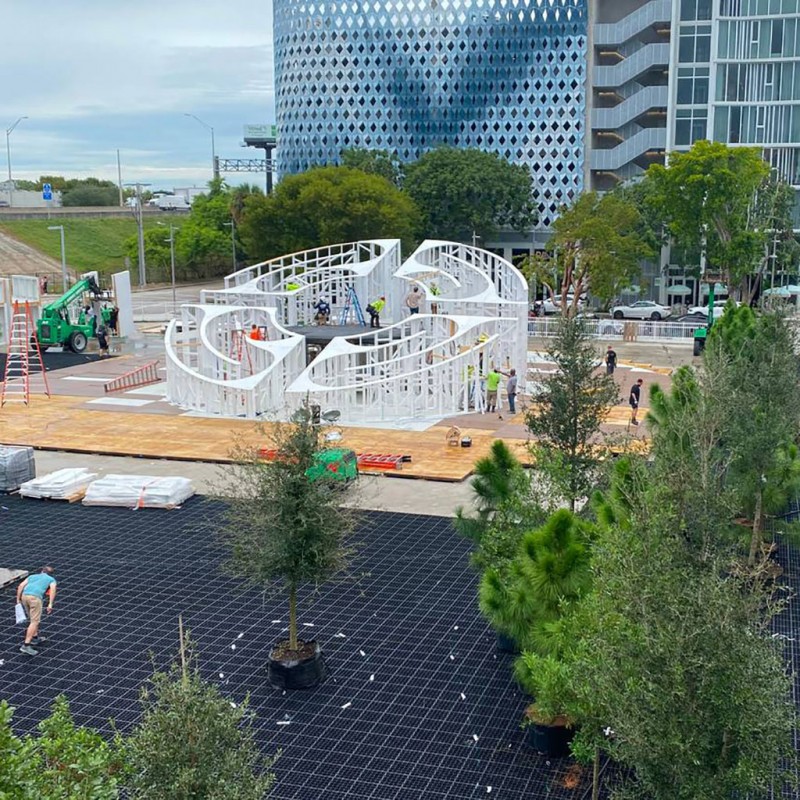 These must-see shows and events should be on your Miami Art Week list
AMAZING POP-UP MAZE
Early scouting indicates the wow of the week will likely be Chanel's larger-than-life pop-up maze in a pop-up forest.
Immersion artist Es Devlin — of Superblue's "Forest of Us" mirrored maze — has designed the circular "Five Echoes" labyrinth measuring 100 feet in diameter and set in a potted forest of 1,000 trees to celebrate the 100th birthday of the original designer fragrance, Chanel No. 5. The free experience — yes, free — opens at noon Nov. 30 in Jungle Plaza at the corner of Northeast 38th Street and Northeast First Avenue. It's likely to be jammed, which means you'll want to reserve tickets in advance at chanel.com/us/fiveechoes.
Two bonuses for locals: "Five Echoes" will remain on view through Dec. 21, after the Art Week out-of-towners have gone. When it comes down, we get to keep the trees; they'll be distributed throughout Miami-Dade parks.
THE MOORE, AND MORE
One of the highlights of pre-pandemic Art Weeks were the shows staged each year by uber-presenter Jeffrey Deitch in the Moore Building, also in the Design District. This year Deitch brings "Shattered Glass," showcasing new figurative works by emerging artists of color from across the U.S. The show is an expanded iteration of last spring's highly popular "Shattered Glass" exhibition in Los Angeles; both are curated by Melahn Frierson and A.J. Girard. This will be Deitch's last presentation in the Moore Building, which is destined for a future as a boutique hotel under the stewardship of Dallas-based Woodhouse. "Shattered Glass" runs Nov. 29-Dec. 5 at 191 NE 40th St., Miami.
Outside, the surrounding Design District will be abuzz with new art and design installations. Site-specific installation "Tomorrow Land," created by Studio Proba and Enjoy the Weather, incorporates playful sculptures with a virtual presentation. The 13-foot sculpture CLIMAX, by Jean Thierry Besins, is made from one ton of recycled stainless steel as a prototype of a 100-foot-tall heater the artist is planning for Iceland in 2024. Shoes + Art is a new retail experience from entrepreneur Matthew Chevallard and will open with a solo exhibition by Mexican-American artist Eduardo Sarabia.
And fans of Louis Vuitton's annual Objets Nomades oh-so-stylish portable furniture will find new pieces among this year's collection survey. You won't even need to go in to get the vibe: LV's men's and women's stores will be wrapped in specially designed facades, the men's by Marcel Wander and the women's by the Campana Brothers.
ORIGINAL SOURCE