A constant fixture on the Miami fashion scene, Angeles Almuna is also a vocal breast cancer survivor and a friend of the Miami Design District. Her voice, her personality, and style are distinctly unique, and Angeles is a force like no other. Each year, they are proud to partner with her on the annual Fashion Strikes Cancer fundraiser each October.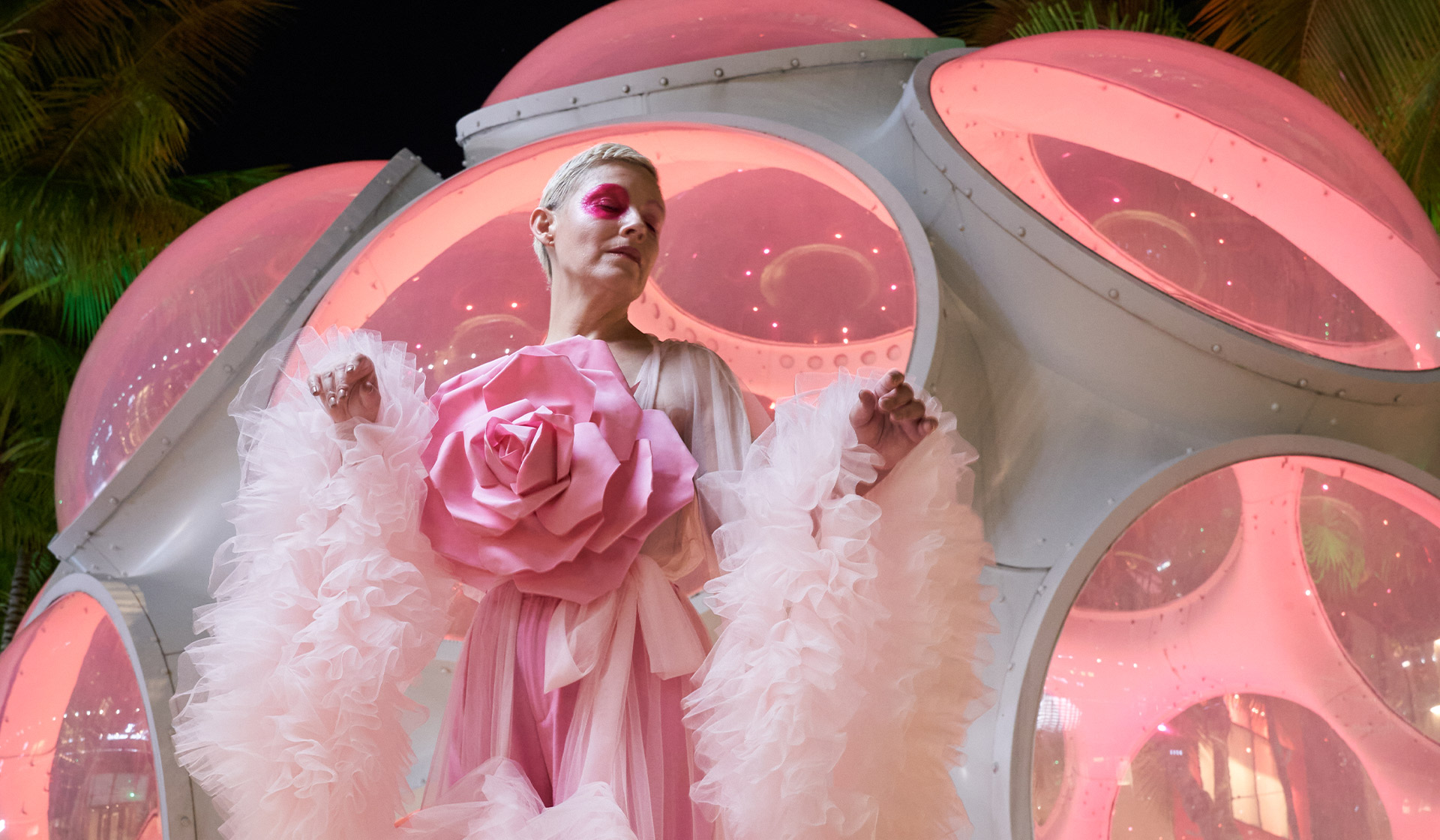 We sat down Angeles to discuss her journey, her recovery, this year's event, and of course, some fabulous fashion.
I imagine the moment you learned you had cancer, something changed in you forever. Do you mind sharing what that was like for you?
In my experience, life absolutely changes after Cancer. When I was diagnosed with Breast Cancer, my life stopped. I could not believe that it was happening. I said: "Why me?" I was angry, sad, upset, and confused. I did not want to accept that bad news, that I was 3x negative, 2 tumors and 1 metastasis. It took about a month to accept my new reality. This was June 19, 2015.
But with time I was wiser, and after the storm came the calm. I changed my point of view about this big "C" and I realized "Why not? I am just me, a human being, nothing special– just a creative lady who loves art and fashion and who is a dreamer. Of course, I can have breast cancer."
For many survivors, cancer gives them a changed perspective on life. What were some of the big lessons and realizations that came to you throughout your treatment and into remission?
There are many lessons when we struggle with terminal diseases. When you swallow the bad news and process, that is when you are ready to confront and fight the disease. I accepted that something was wrong with my body, that I did not listen to my body at the right time, that I have one life, and I know it sounds very stereotypical, but life is very short. We are not superheroes. I learned that I have to let go of certain things in life that are not important. Time and moments are precious. Stress is our enemy and the worst disease. Also, I knew at that time that I was depressed after my divorce and I was hiding my condition under fashion, sadness, vanity, and alcohol. I was very destructive. But I conquered all treatments, surgeries, side effects, tears, and emergency room visits because I changed the way I see life. I believe life is giving me another opportunity to be better with myself and others.
You've been incredibly open to the public about your battle with breast cancer. What inspired you to be so authentic and share so much of your journey, rather than keep it private?
Well, I am a social butterfly! I have always been open with my family and friends, and at first I was thinking of being silent, quiet, and fighting by myself. But I couldn't do it. I don't have family here in Miami, and I wanted my friends, followers, and my fashion creative art environment to help me through this battle. I always say that I am here, alive, because of all of you. I needed support and asked. I opened up about my journey on social media and announced: To friends, "I have the Big C". Definitely, I can say now that being open changed everything for me. It gave me companionship through my chemotherapies (16), radiation (36), and surgeries (3).
A very important thing for me is that I wanted to learn and teach the whole experience with people who didn't know anything about breast cancer. I knew that telling my journey in a real way could be a better school for others to understand cancer. I could inspire others to listen to their bodies and to prevent this terrible disease.
My environment at that time was between fashion shows, styling, and cameras as an influencer/blogger and everything was about beauty and perfection. Real life is simply not like that. So, I presented myself on those social platforms as me, as Ángeles — vulnerable, with ups and downs and a look at what the reality is to fighting Breast Cáncer. There are too many Hollywood movies that need to update the cancer stories. I wanted to be real.
Before the Fashion Strikes Cancer annual event kicked off, I remember when ABSTRK painted a mural of you on the edge of the Miami Design District several years ago. Tell me what it's like to have such strong community support and a partnership with MDD to spotlight your story?
That was a highlight in my journey, what a story! The mural is called "One Day at a Time" and it was painted the same year as the first Fashion Strikes Cancer in Miami Design District. From 2016 until 2022 the mural was there. I remember that I could not believe that someone asked me permission to paint a portrait of me on a big scale, because the artist, ABSTRK, said that I inspired him and he was so curious about me that he wanted to make it for awareness and inspire others.
I was and I will always be surprised by my fabulous community. Look, who am I? It is such a privilege that people feel connected with me with my story. Priceless. And Miami Design District In 2016 I knew that when I felt stronger I would do a party to say THANK YOU to my community and my friends, so I knocked on the door to the District and Lauren Gnazzo connected me with Sandra Santiago. We talked and we did that first event without ever thinking that it could be another year or an annual thing. I was happy to have a venue where I could invite 300 guests surrounded by fashion, art, and music to just say thank you to them.
I am the most grateful person about the bond that I have with this neighborhood, they believed in me and I hope they will stay believing for a couple more years. I have to say now, the District is my family. This event could not have a past, present and future without the Miami Design District. I am truly thankful that the universe gave me this opportunity to tell my idea to this neighborhood that I respect and it is very close to my heart.
Let's talk tattoos–you got a small tattoo for each chemo treatment you endured. Why did you do it, and how many do you have?
In total today I have 25 Tattoos.
I started with 3 tattoos in the middle of my second or third Chemotherapy. I was a bad patient, you shouldn't do it at that time, because it could cause infections and more problems. I did the first 3 and the rest at different times. But in my mind it was the right moment. One night, in Wynwood, with my big turban on. At that point, I had no hair and with my Rodrigo Gaya we did that first tattoo trip, 3 lines for me, one line for him. I have 16 lines… They mean a lot to me. Those remind me the pain and the dark days but also the good days, my strength and my community. Simple minimal lines, limitless because time is limitless, different lengths, one line for each chemotherapy. The last one is on my back, the longest one, the most painful one and the most beautiful. I was lucky that I had a friend at that moment that they made a line for me, they wanted to remember my journey with me and support me in any way. People like Rodrigo, Loamis, D'Ana, Erika, and Ria are always in my mind. They have a line for me to remember that we are special, stronger, and friends and we can survive so much when we support each other.
Everyone who knows you knows that you're a true fashionista. What are some of your favorite brands to shop in Miami Design District, and why?
This is a difficult question! Haha. I love fashion, I love to express myself with my own style.. Fashion is part of my language and I adore creating new outfits, and what better than to go and shop in Miami Design District and have all the experiences? First, I cannot buy everything, my budget is specific and exclusive. I always look for quality more than quantity and pieces that will carry me through many more stages of my life.
My favorites are Loewe, Maison Margiela, Gucci, Acne, Dior, and Prada. I have special pieces from these brands in my fabulous closet. I love originality and unique pieces for my collection. Those pieces make me happy and I always love to mix my vintage pieces with these beautiful pieces that I found in the District. This is me. Unpredictable when we talk about fashion and my own style.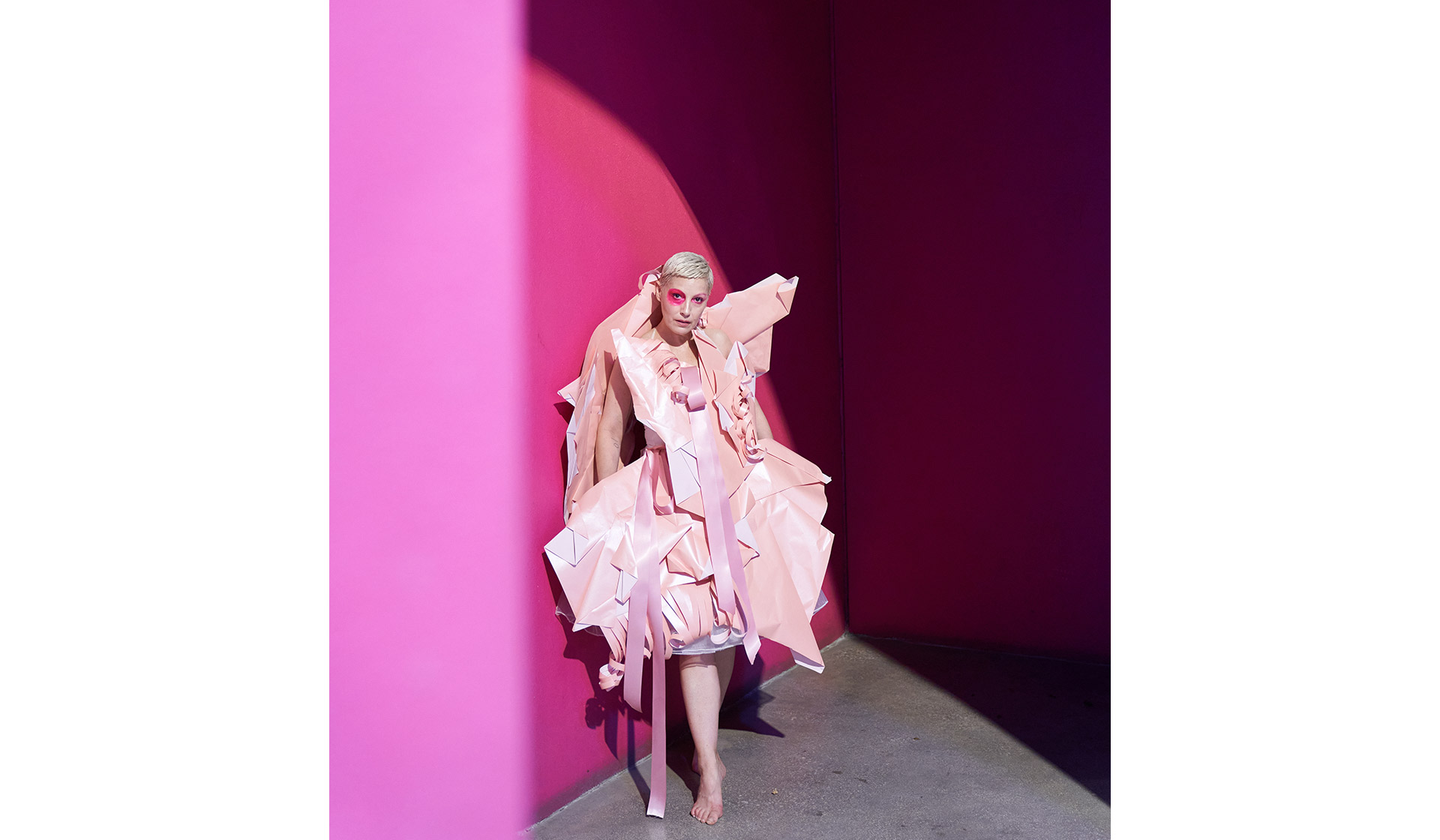 What is something people would be surprised to learn about you?
Mmmmmm well, I think I am a good listener, but also I love to talk. I can act, I can perform, I love the scenarios and to creating characters. I can play the castanets ("castañuelas") , I can dance and I love to cook for my people, even for a big group of 20 or more guests. I love hosting dinners at my home, which I think of as my castle.
What can we expect at this year's Fashion Strikes Cancer event?
This year for the 8th (!!) Annual Fashion Strikes Cancer, guests can expect all kinds of activities from wellness, meaningful conversation, yoga, fashion moments with the Styled by MDD team, and a fabulous event that is our first time doing it, a magical Fashion Show. Sorry, but I cannot say too much aside from saving the date for October 26th.
I am pretty sure that this year will be a successful Fashion Strikes Cancer in Miami Design District and I am looking forward to 2024 and also for the 10th Anniversary in 2025. There is too much to do to prevent and fight Breast Cancer, and I am proud that this event benefits the BCRF Breast Cancer Research Foundation. I hope to see friends old and new at this year's event!