"Pedro Pérez: Back the Same Day" is a comprehensive exhibition showcasing the remarkable production of Cuban artist Pedro Pérez (born 1951). Unveiling a multifaceted body of work, the show features paintings, wall reliefs, and drawings that span five decades of the artist's outstanding career. On full display is Pérez's mastery of multiple mediums demonstrated through a range of artistic and technical skills such as gilding, gesso, and horology. Curated by Karen Grimson, this exhibition debuts new artworks and marks the first survey of Pérez's work in over 25 years.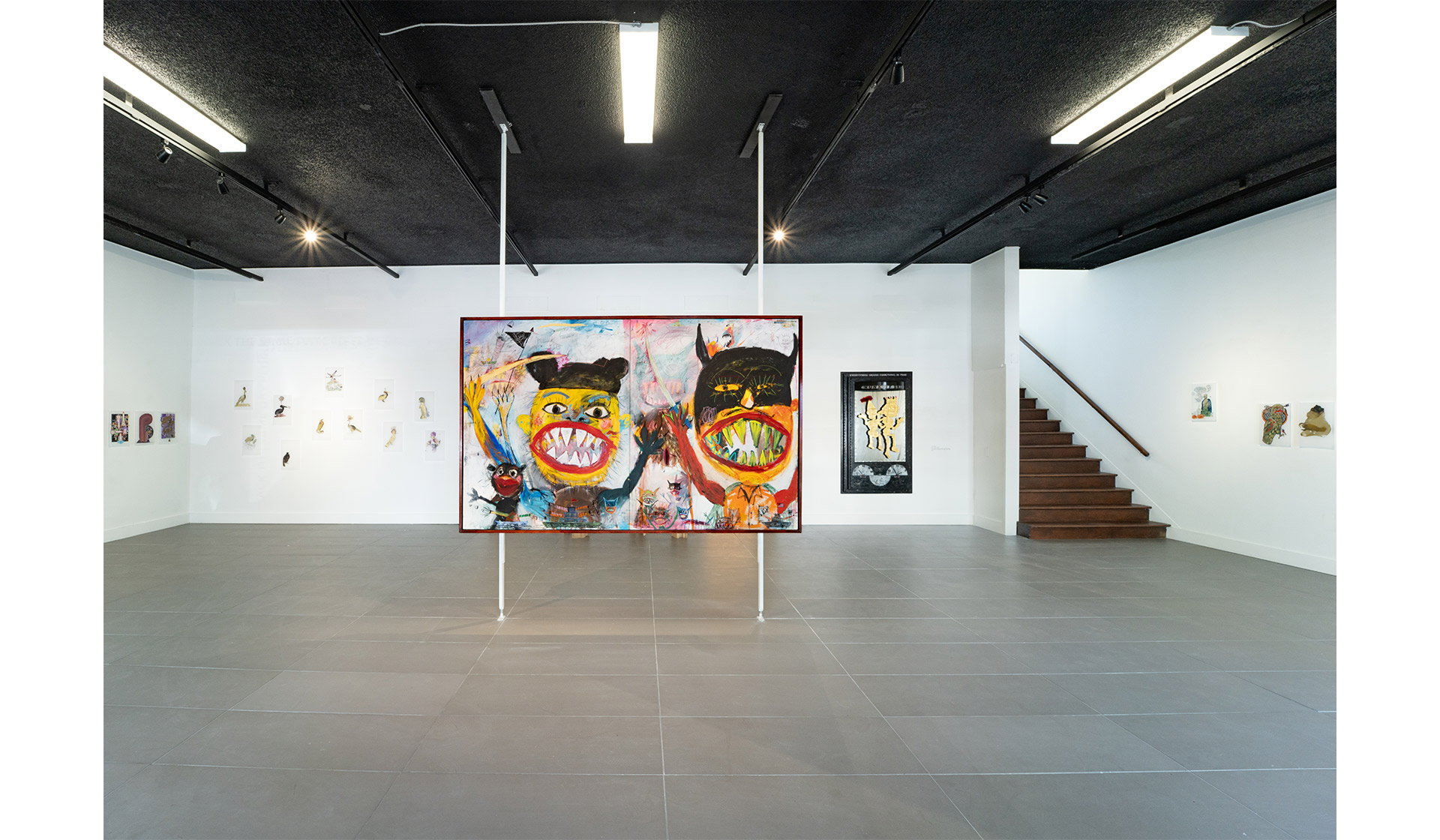 On loan from the NSU Art Museum in Fort Lauderdale, Monsters That Will Prevent People Like Sydney Tillim from Becoming Famous Artists (1976), is the earliest example of Pérez's work in the exhibition. Expressing his disillusionment with the art world and its institutions, it dates back to Pérez's graduate years and his time working as a studio assistant to Grace Hartigan, the Abstract Expressionist painter. Inspired by the imagery of paper mache masks in Cuban carnival, this graffiti style piece is a great example of Pérez's practice during his formative years as an artist.
"My graduate years were a very emotional time for me but also a very pivotal time in terms of my development as an artist. I was dealing with so many things happening to me all at once and I think "confusion" is a very good word to describe how I felt. I look back at pieces from this period as a good example of where my roots are as an artist. You can see and feel the confusion in the chaos of it all."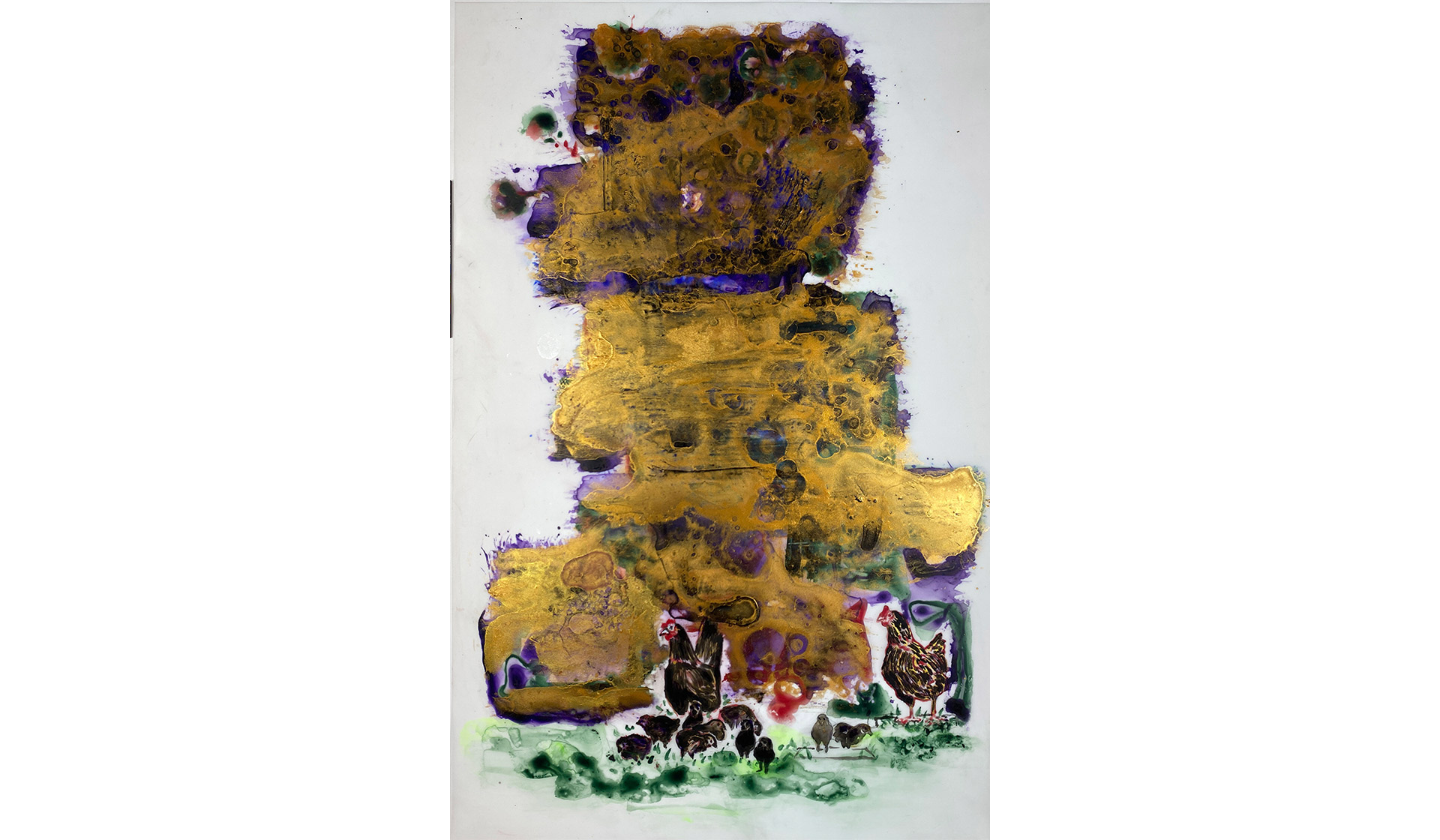 The concept of time is very important to Pérez and the motif permeates in different manifestations throughout the show. We see time symbolized in his Andy Warhol Cookie Jar Clocks (1991), a set of wall reliefs that contain working clocks and are gilded in 24-karat gold leafing. These pieces are based on a collection of eccentric vintage cookie jars owned by Andy Warhol which were auctioned after his death for record prices. Literal time-keepers, they also express Pérez's cynicism toward consumerism and market-driven production in the art industry.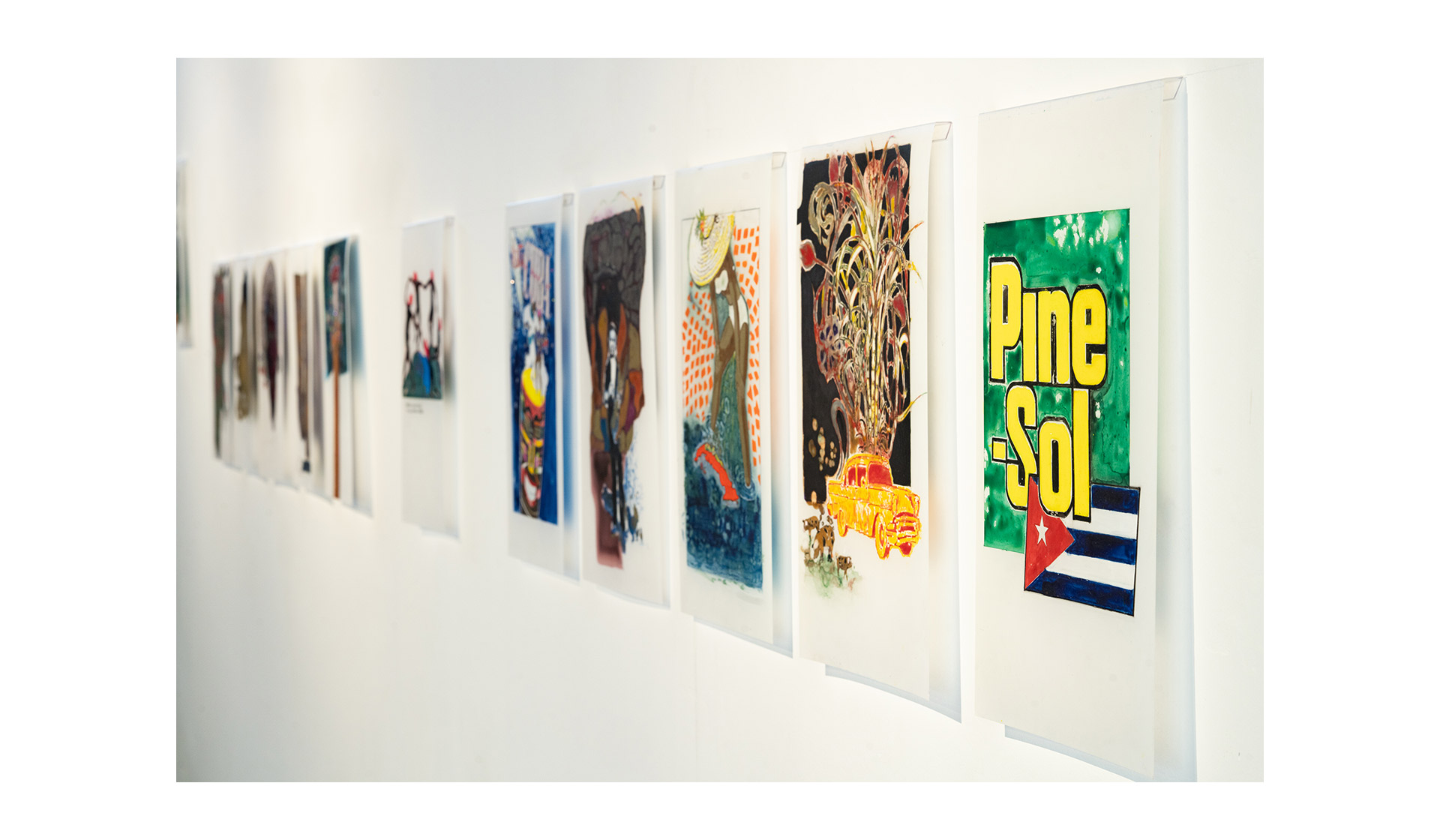 "The auction of Warhol's private collection was a huge event in the art world. It was in the press at the time and everyone was talking about it. But to me, it was kind of crazy the amount that money people were willing to pay for these cookie jars. There was an article in the New York times that featured twelve of the cookie jars and I picked six of them to recreate and base the look of clocks on. The whole idea that this is what people were spending money on, these things that were obviously overvalued, didn't sit well with me. I couldn't wrap my head around that. These clocks are a commentary on the art market, its consumer culture, and what it can mean to be a struggling artist trying to make their way in the industry. The art market's culture and what real artists are doing are separate things completely."
In his wall assemblage Hunk of Skin (1989), time appears again in the clockwork elements and the inscription "Everything means something in time".
"The clock in my work is a really personal thing: it has to do with my childhood and my father's interest in clocks. I'm very fascinated with it, and as a concept it is very important to me. The event of my father dying showed me that someone can exist in one moment and be gone in the next. After he passed, I was struck with the idea that this person will never walk through that door again. Time changes and controls everything and it continues to be a very important idea for me to explore."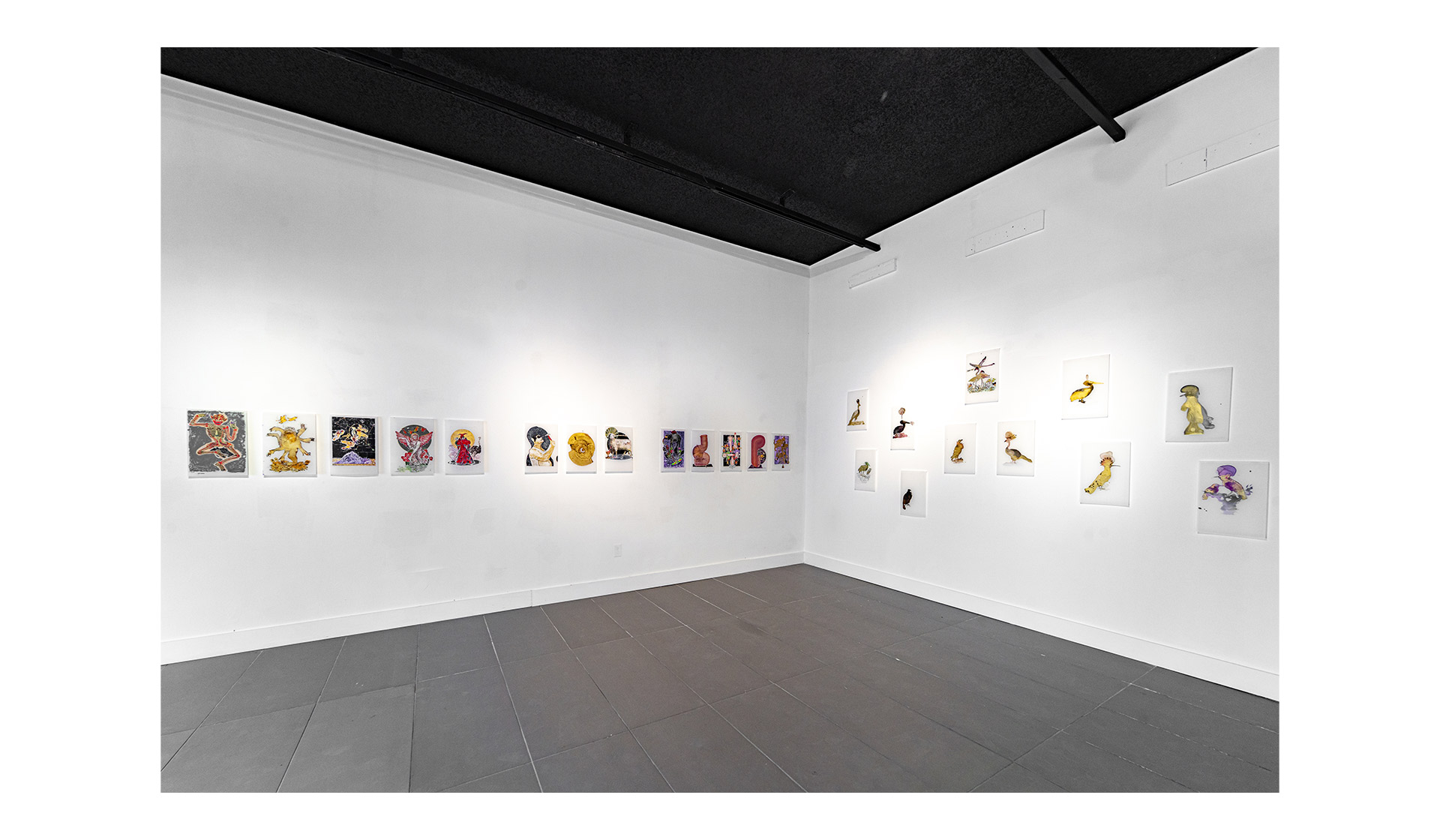 Much of Pérez's work also incorporates a sense of sarcasm, as seen in Hunk of Skin (1989), where the gold marionette skeletons point towards the theatricality of the artworld.
"Back the Same Day" also introduces a series of 80 paintings on drafting film from 2005-2023. These are titled after the date and time of their completion, often times showing multiple dates as a chronological record of the artist returning to each piece. In this way, Pérez essentially creates multilayered or stratified works of art that represent a measure of time within his larger creative production. Each of these small-scale paintings can be seen as a time capsule for his ongoing daily practice, which navigates across figuration and abstraction.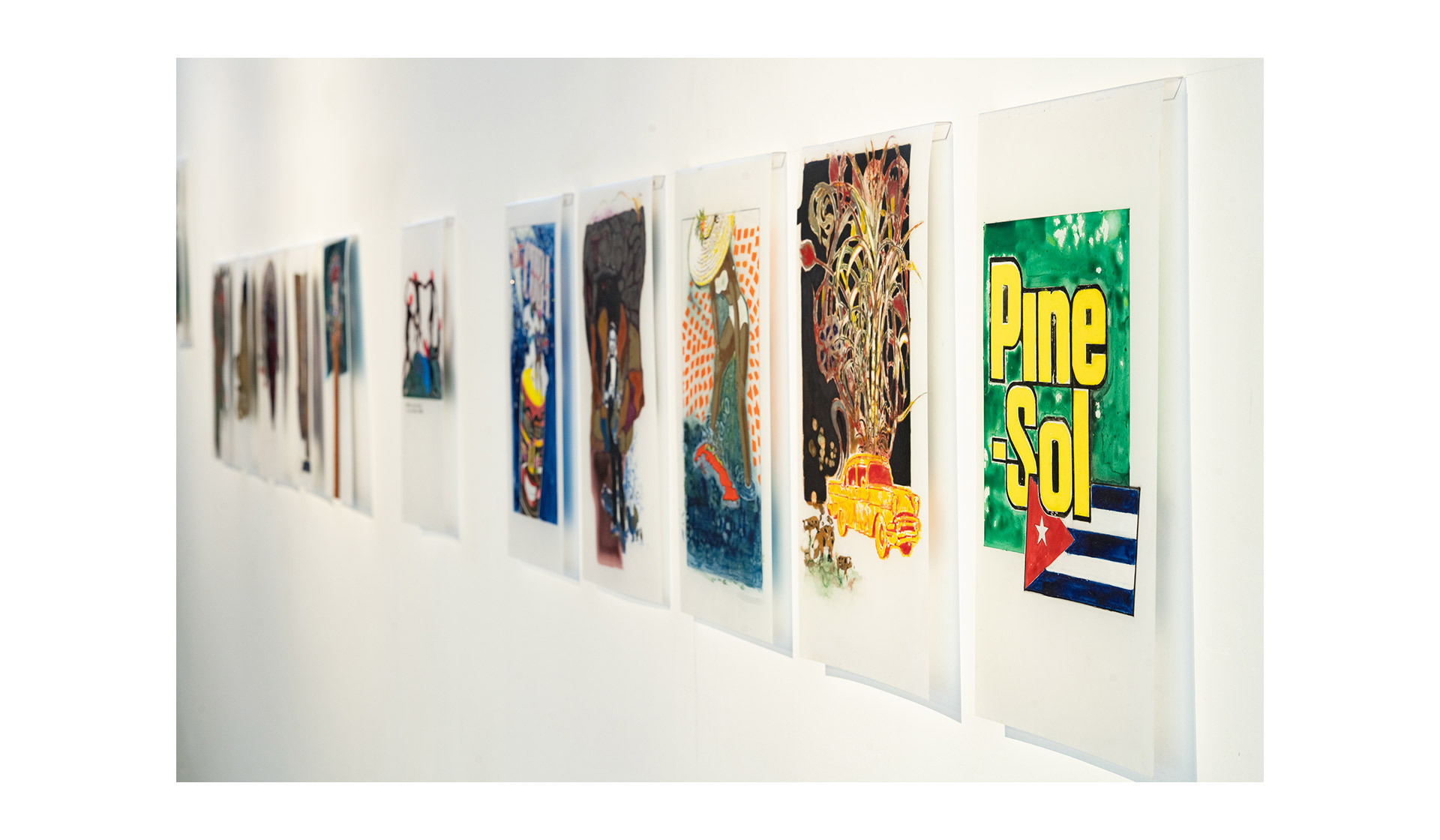 "Abstract works are something that I have to labor for. A few of the abstract works in this series were made using a very wide and large Japanese paint brush. I started creating shapes with this brush and I just wanted to see where it would go on its own. I'd say these pieces have an organic form to them, but even though they're very different from the more figurative works in the series, I see them all exactly the same. There's no difference to me between any of the styles."
Hailing from Caibarién, Cuba, Pérez came to the United States as in 1966. He studied art and architecture at the University of Tampa in Florida, and received an MFA at the Maryland Institute College of Art's Hoffberger School of Painting in 1978. Today Pérez lives in New York where he has worked as the Frame Shop Foreman at The Museum of Modern Art for 35 years.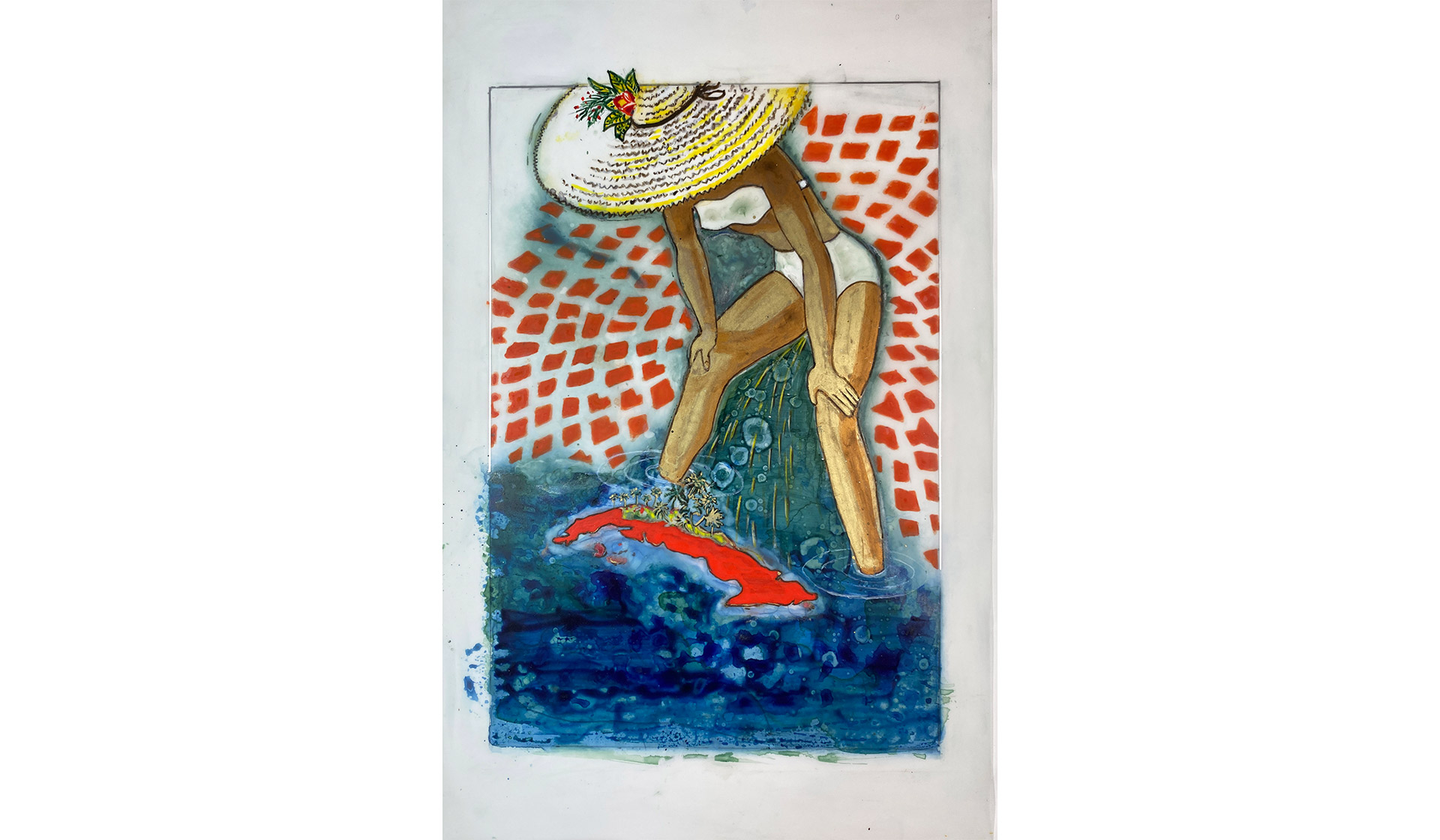 "Cuba to me is a dream. A dream that doesn't exist. If I go back to Cuba it's not going to be anywhere near what I think it is in my own mind. Growing up on the Island, I lived near the beach so I'd see a lot of tourism. Knowing how Cuba is presented and seen by tourists and the outside world, it was very different to the Cuba I knew and from the Cuba that came after the revolution. The Cuba that appears in some of my work harkens back to what the island was perceived to be like during the 1950s."
In the exhibition space, a video presentation and audio recording allow guests to hear and see Pérez speaking about his artwork. Discussing the self-reflective nature of his art, his background and other anecdotes, this audiovisual materials provides a framework for much of the meaning behind the work.
"After many years of working at MoMA you become a little disenchanted. This has crept into my work in many ways but quite notably in the phrase "MoMA is a secret society." Around the year 2000, at a time when MoMA had just completed one of its last renovations, the subways in NY were filled with posters advertising this. I was passing by a homeless man that I had befriended when he suddenly explained "MoMA is a secret society." I just stood there because to me it was a pretty philosophical thing to say. So I ended up adding it to one of my pieces."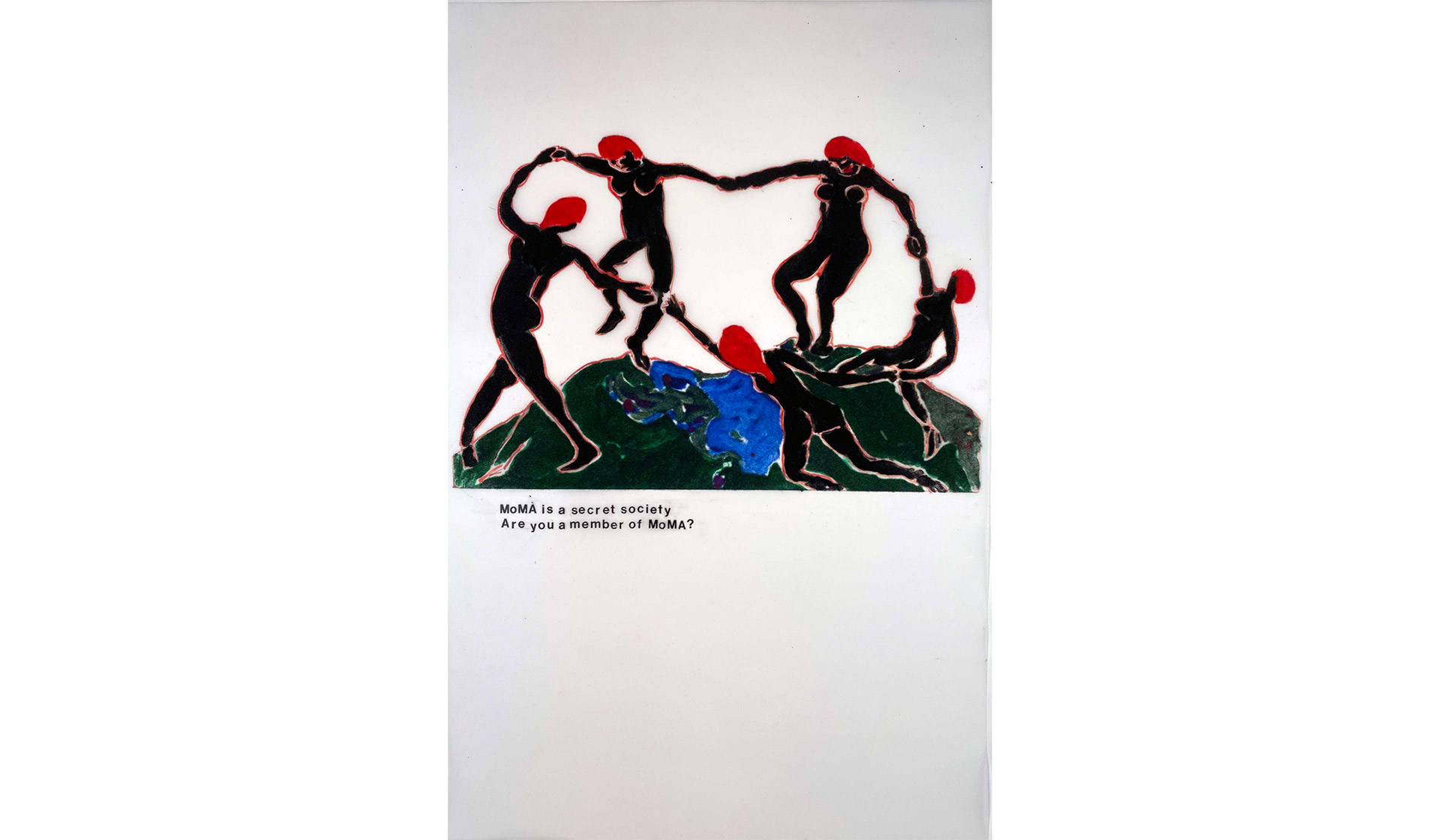 "Pedro Pérez: Back the Same Day" is on view from September 29 through November 26, Wednesdays through Sundays from noon until 7pm at 56 NE 40 Street. This compelling showcase is a fitting tribute to Pérez's accomplished practice and offers a worthwhile experience for all visitors.