We're a few weeks into 2017, and if you're anything like us, that means you still have high hopes of sticking with your New Year's gym resolutions. (Good for you!) So to make sure you stay active and motivated when working out, we chatted with two of the neighborhood's experts – David Alexander, owner/director of Sport Performance & Development of DBC Fitness, and Anthony Gonzalez, owner of the soon-to-be-opened Orangetheory Fitness in the Miami Design District – to find out what keeps them going and how to make 2017 the most fit yet.
On getting back in shape after the holidays...
Anthony Gonzalez: One of the best ways to get back in shape after the holidays is to find a program that is proven to work; that way, you can see results quickly, which will help keep you motivated to continue well past the new year.
On making workouts more fun...
David Alexander: The best way to get back in shape is to make your workouts enjoyable instead of feeling like a chore. Many people start off by grinding themselves into the ground or performing exercises that are far too advanced or ones they don't actually know how to do. DBC trains many of the world's top athletes, so the energy in the gym is always one of extreme motivation. Because our athletes have to be pushed to their limit with zero risk of injury, no one is ever allowed to go beyond their limit. Nothing will get you off track more than an injury.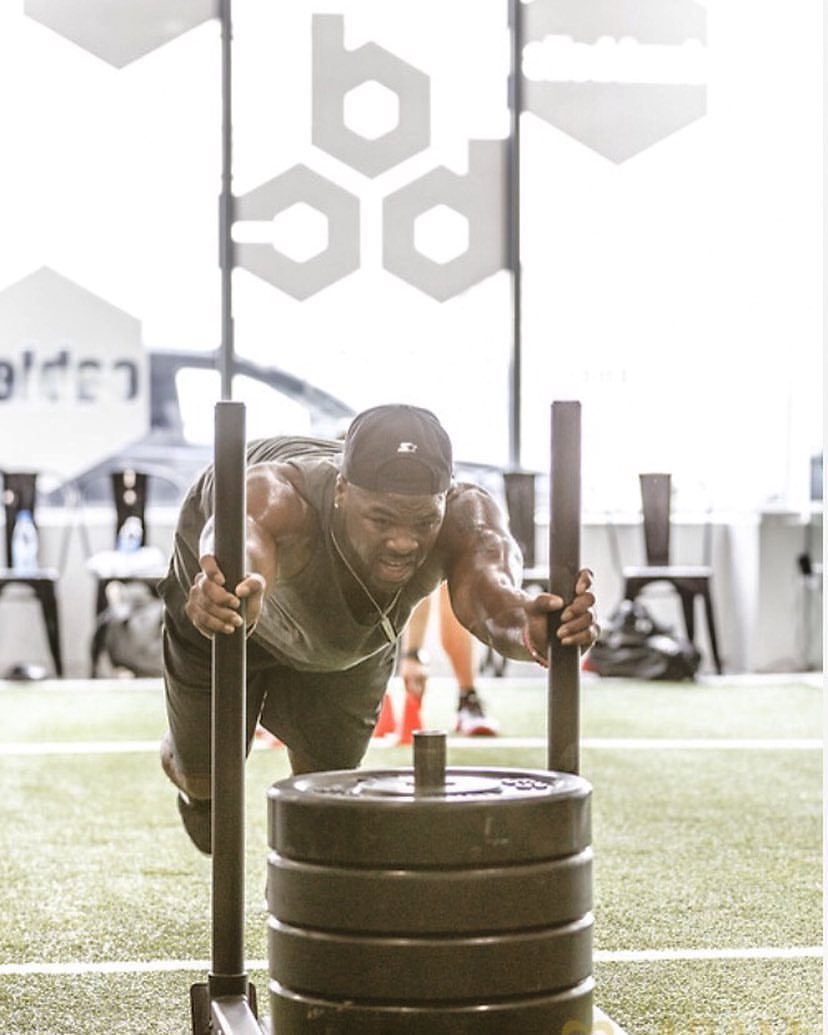 (San Francisco 49ers running back Carlos Hyde training at DBC)
On quick and easy workouts...
DA: There is no such thing as a quick and easy workout! If you walk into any gym, you won't find the fittest people sitting on a recumbent bike mindlessly pedaling away and reading a magazine. They will be sweating, grunting, and working with focus. If you are new to working out, I highly recommend you hire a trainer to at least get you started on the right track.
On finding the right workout for you...
DA: If you're new to working out, then I would recommend starting off slow to do something you can commit to. Also, I would try to get a friend to do it with you; it's much more motivating to have a friend or coworker doing the same program as you. You can start by walking or jogging, or just doing some pushups and squats with no weights to get your body moving. Plus, studies show you are more likely to show up and continue your exercise routine if you have another person that depends on you as their partner.
AG: Orangetheory helps its members stay motivated with amazing, professional coaches and fun energetic classes that change every single day. They constantly keep you and your body evolving! We use treadmills, water rowers, TRX suspension bands and freight weights in our program. Plus, it's designed with 365 different workouts a year, so it takes the guesswork out of what you're going to do in the gym everyday.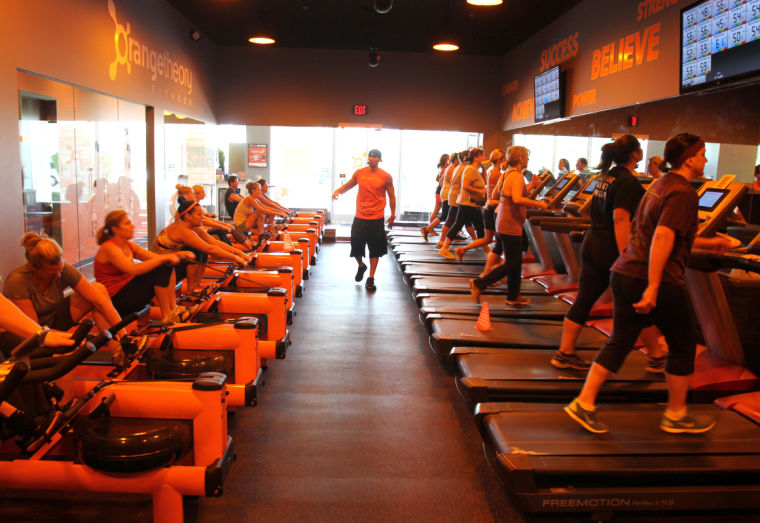 (An Orangetheory class in session)
On staying motivated...
DA: When your workouts are invigorating instead of dreadful, you actually want to go to the gym. And when you have a good trainer you can trust, he or she will make you feel better. All this combined, motivation won't be an issue.
AG: New Year's resolutions are always hard to keep, but for me, regular exercise and a healthy lifestyle are things in life none of us can afford to do without. I don't care if you're young or old, it's never too late to get started; and your quality of life will only benefit from exercise. That's what keeps me motivated! The alternative to not exercising and not leading a healthy lifestyle is just not an option for me.
On favorite ways to workout...
DA: I love all types of exercise and try to do as many different things as I can. Our philosophy at DBC is simple: we want to make everyone that comes to us a better functioning human being. To do this, we're always constantly challenging the body with increasingly complicated tasks. This is why you often hear that real training is a combination of art and science. You have to be creative, but at the same time, stay within the bounds of your body's function.
AG: My personal favorite exercise is rowing. It's a full-body power movement that burns a tremendous amount of calories and builds endurance, as well.
DBC Fitness is located at 3841 NE 2nd Avenue, Suite 103, Miami, FL 33137. Orangetheory Fitness will open in the Miami Design District in March, but pre-sale memberships are available now.