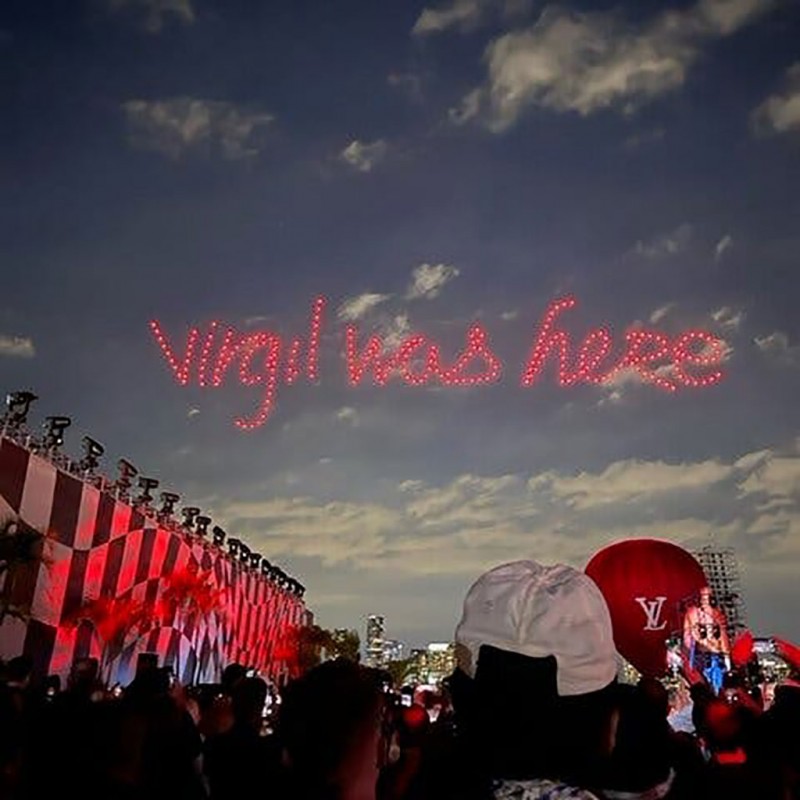 Louis Vuitton Show in Miami Becomes a Virgil Abloh Tribute
Diana Tsui
A Louis Vuitton runway show meant to mark the opening of a gleaming new men's wear store in Miami's Design District became a moving tribute to Virgil Abloh, as friends, collaborators and fans paid their respects under fireworks and a drone light show.
On Tuesday, as the sun set over Miami's harbor, around 1,500 guests piled onto Louis Vuitton-branded speedboats and ferries, and made their way to the Miami Marine Stadium, a former water sports arena. The causeway was dredged to accommodate the runway barge, which was decorated with birch trees and black paper airplanes, a recurring theme in Mr. Abloh's work.
The front row included longtime supporter Kanye West, who sat next to Kim Kardashian and their daughter North. Also making their first major appearance since the 2020 presidential election were Jared Kushner and Ivanka Trump, who wore a bright pink Louis Vuitton dress.
Attendees were instructed not to grant interviews, out of respect for Mr. Virgil's family.
Also seated front row were Rihanna and ASAP Rocky, Pharrell Williams, Joe Jonas, Ricky Martin, Venus Williams, Bella Hadid, 21 Savage and Joan Smalls. The Arnault clan, who originally were not intending to come, walked in just as the show began around 6 p.m., clad in black.
A hush fell over the crowd as Michael Burke, the brand's chief executive, gave a short and emotional speech. "Like all of you, Virgil's passing remains inconceivable to me," he said. "He was born the same year as my oldest child, and I considered him like a son."
He was not the only one who held back tears. After the 18-minute show, which included a few new looks but mostly consisted of outfits from Vuitton's spring 2022 men's wear collection, Mr. Abloh's voice filled the dark stadium: "Life is so short that you can't waste even a day subscribing to what someone thinks you can do, versus knowing what you can do."
The arena was illuminated in rainbow colors, and huge fireworks sparkled in the sky. Many in the crowd embraced as tears streamed down their faces. "It feels like we're at a beautiful funeral," one attendee was overheard saying.
Guests departed the barge and followed a red carpet to the after-party, stopping to pose in front of a three-story statue of Mr. Abloh wearing sunglasses and carrying a branded portfolio.
Just before 7 p.m., as the mood shifted from somber to party mode, a drone light show filled the sky. It began as a paper plane, before morphing into iterations of the Louis Vuitton monogram, a palm tree and the initials "L.V.," which turned into "V.A." For the finale, the drones spelled "Virgil was here"; within moments, photos of the display could be seen across social media.
ORIGINAL SOURCE