On December 2, 2021, CHANEL unveiled a new boutique in the heart of Miami's Design District. Showcasing the House's Ready-to-Wear, handbags, shoes, eyewear, Fine Jewelry, and Watches, the two-floor 7,600 square-foot boutique is the ultimate CHANEL destination in Miami.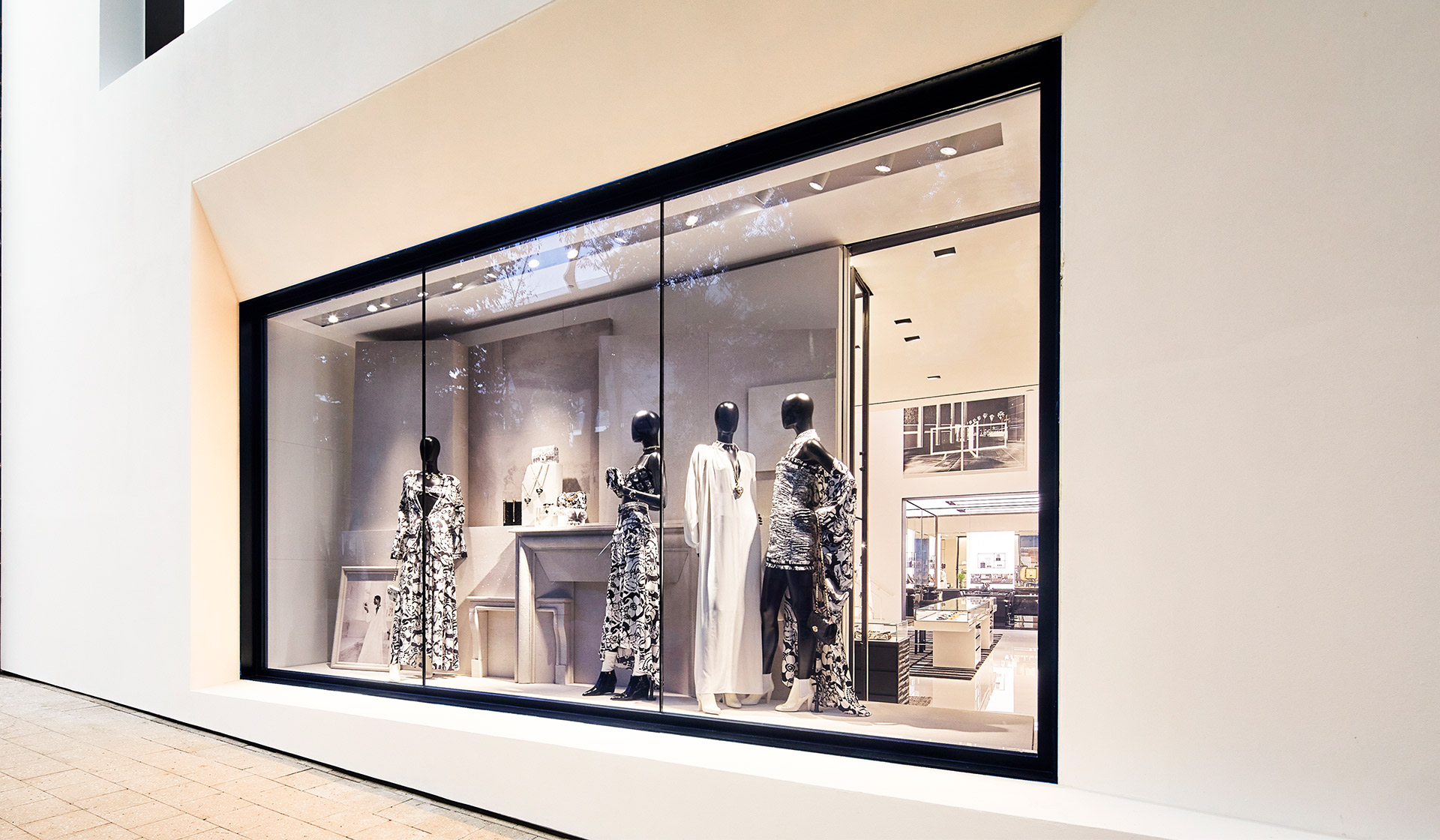 The Miami Design District location will be the latest building design for CHANEL by the New York-based architect Peter Marino. Known for creating spaces that reflect the aesthetic codes of the House worldwide, Marino harmoniously blends the values that define CHANEL – creativity, innovation, craftsmanship, and exclusive materials. A longtime CHANEL collaborator and visionary, Peter Marino continuously embraces the inherent allure and timeless modernity of the legendary House with equal emphasis on architectural and interior design.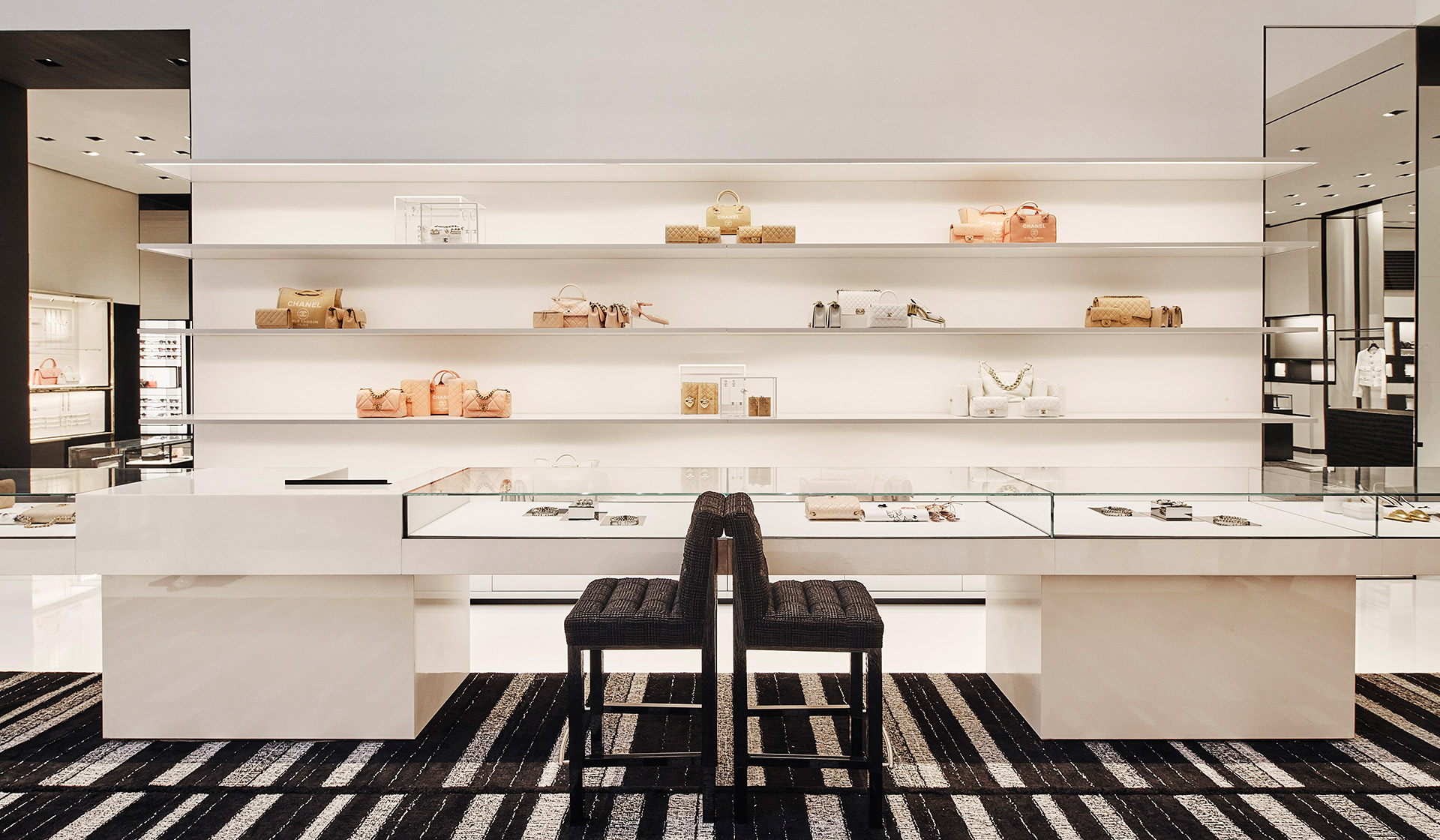 Envisioning the boutique as a celebration of CHANEL for an American art capital, Peter Marino's design is an art piece in its own right. The two-story building's white stucco façade tempers the bright sunlight along the main pedestrian plaza. Several large, irregularly placed, clear glass windows press inward at an angle to accentuate the mass and depth of the building, and provide an abstract tactility, revealing an interior that is a warm, light-filled oasis.
The entry is punctuated by a beveled black steel frame that draws clients inside. Within, a low-lying gallery of grey wave stone floors and white hand plastered walls is lined with the newest iterations of the House's famed handbags, including the 11.12, interpreted in different ways each season, such as metalized gold or silver. From there, a few stone steps lead into a 30-foot tall central atrium topped by a 120 square foot skylight. This vivid white double-height space bathes the store in light and energy and creates a central court inspired by gatherings at Miami's annual Art Basel.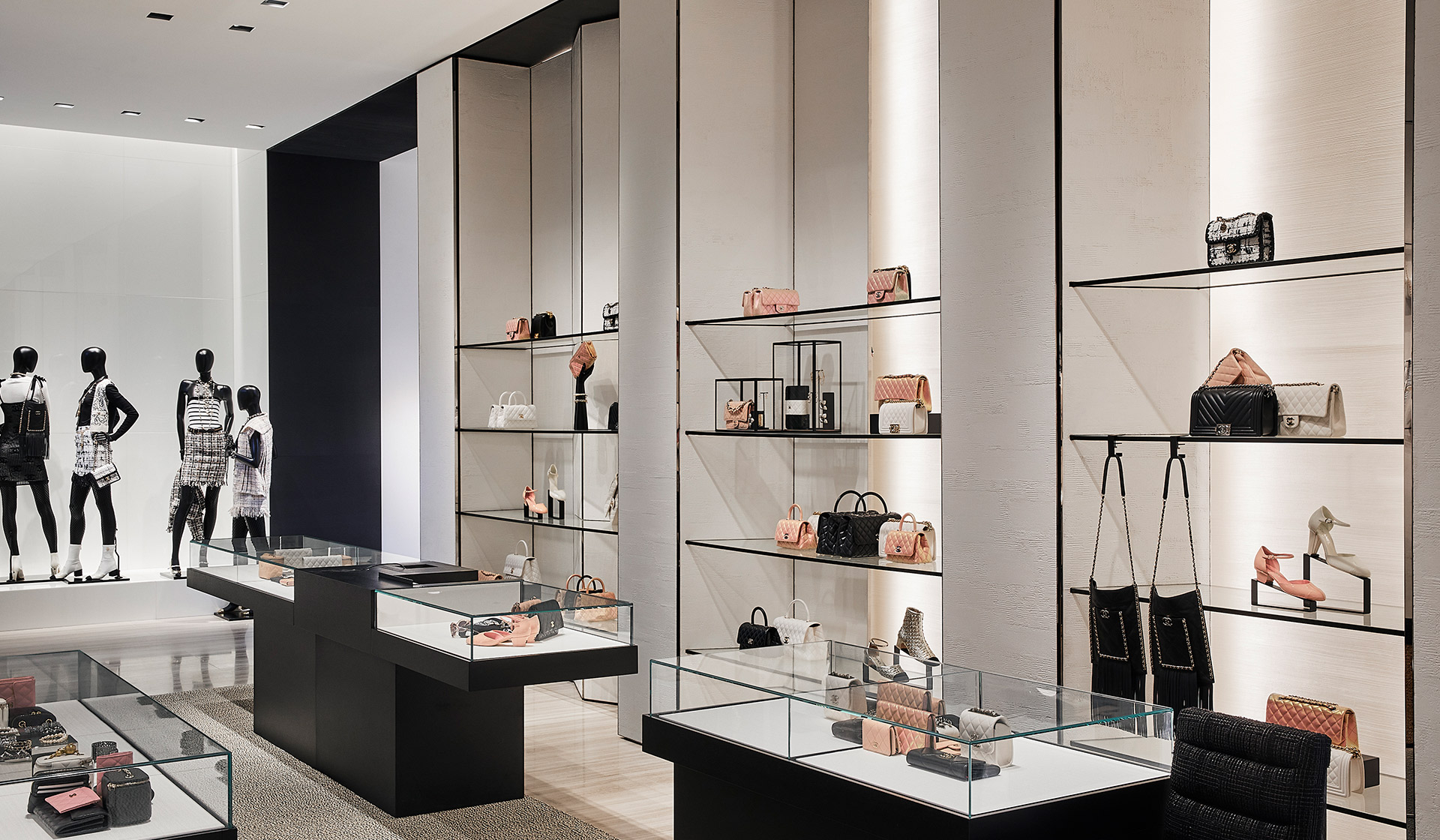 Throughout the boutique, artworks specifically curated for the space herald Gabrielle Chanel's influential legacy as a patron of the arts. Vera Lutter's monumental camera obscura photograph 'LACMA with Yang- Na 2011- Present, 1: March 8, 2017' lines one wall of the atrium, all bold graphic lines, and ethereal palm trees. Above the staircase leading to the second level are three works by artist Gregor Hildebrandt ('Der Flur Blick von der Tür', 'Blick in die Küche Küche', and 'Blick ins Esszimmer vom Balkon — Zimmer aus') incorporating plastic cassette boxes, a nod to the artist's preoccupation with music and pop culture that also perfectly suits the House's recent Mod and Punk runway references.
The boutique opens with the arrival of the Cruise 2021/22 collection, designed by Artistic Director Virginie Viard, and first shown in Les Baux-de-Provence in May this year. Virginie Viard sent out a graphic collection rich with good luck charm-embroidered tweed suiting and printed silk separates that perfectly compliment the new boutique's vibrant, timeless aesthetic.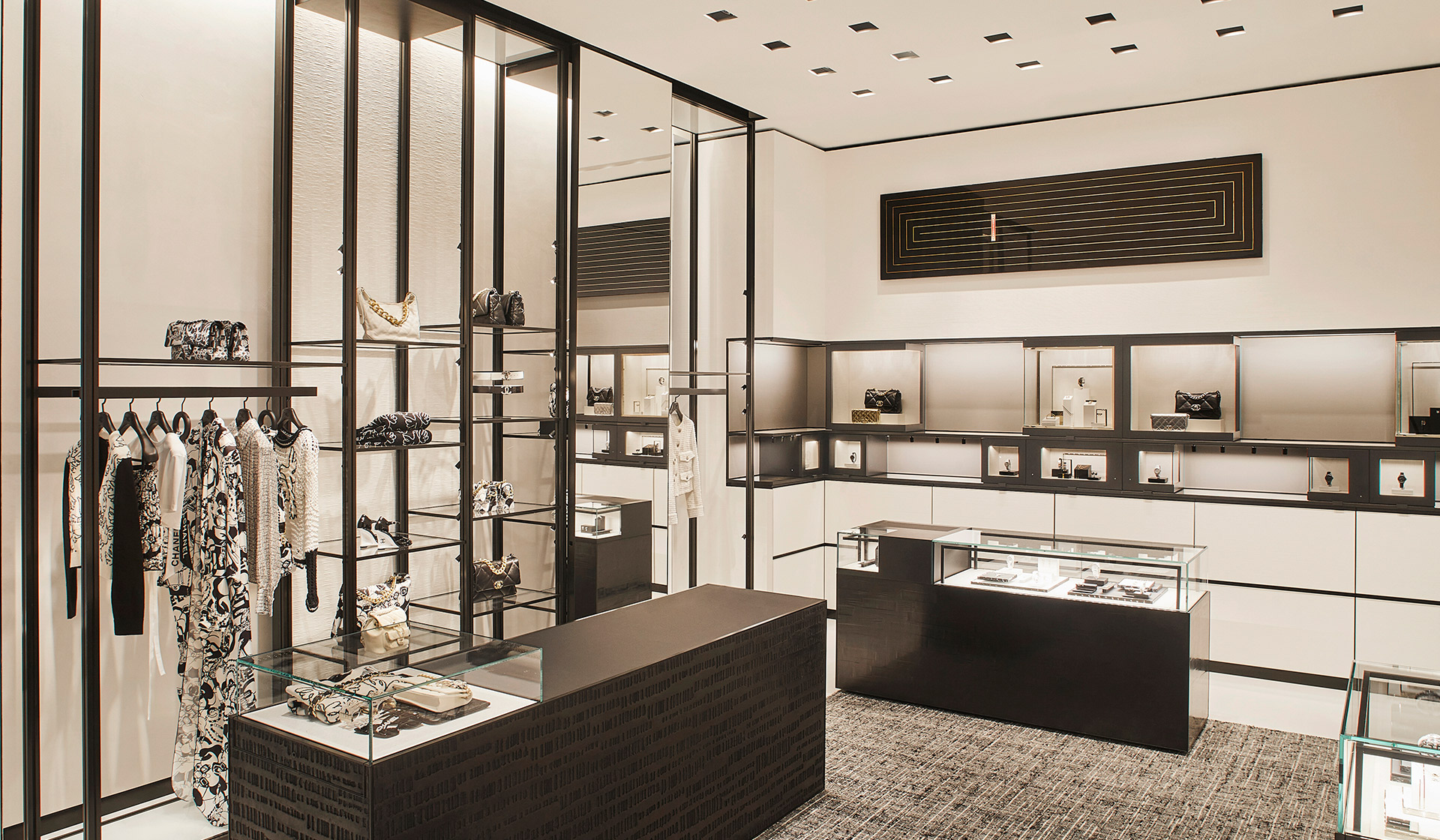 Watches and Fine Jewelry creations captivate visitors on sleek shelves and within embedded niches. The iconic J12 Caliber 12.1 Watch, and Fine Jewelry pieces, like the inimitable Coco Crush and Camélia collections, as well as Les Signatures de CHANEL, a stunning diamond High Jewelry Collection, are on view under 'Black Stella,' a large scale artwork commission of resin and acrylic, 8 feet in length, by artist and frequent CHANEL collaborator Peter Dayton that calls to mind the House's lines of quilted leather. Inside the boutique's elevator is a second unique commission, by artist Chris Succo, who sprayed painted black lacquer and oil on white linen in abstract squiggles reminiscent of a dash of Mademoiselle Chanel's own hand.
On the second floor, accessed by an imposing 40-foot white staircase open to the atrium below, shoes and Ready-to-Wear are showcased in dedicated salons. Optic white and glossy black ankle boots and metallic strass pumps join the shoe selection between Black Belt Collection Parallelo light fixtures by Peter Marino for Venini and a Fran Taubman Aluminum Plate Coffee table. Racks holding pink bouclé suiting edged in wide black braid trim and crochet minidresses surround a Suduca & Merillou wood and rattan coffee table and two gleaming metallic Bent Half Tube Chairs by Voukenas Petrides in the Ready-to-Wear salon. An upholstered Cosmos lounge chair by Augusto Bozzi can be found in the first changing room underneath 'TBT', a drawing by Jan-Ole Schiemann. Throughout, Peter Marino incorporates finishes and details that harken to the intrinsic elegance that defines the CHANEL aesthetic. Visit CHANEL today at 155 NE 41st Street.
#CHANELMiamiDesignDistrict
#CHANELinMiami