It's difficult to overstate the layers of passion, controversy and romance in Charles Édouard Jeanneret's–better known as Le Corbusier–personal life. He once sketched nudes of actress Josephine Baker on an ocean liner to South America; and one of his many lovers, British showgirl Christine Keeler, rattled the British Government in what became the "Profumo Affair" – a 1960s scandal worthy of today's reality TV. Le Corbusier's professional life was as busy and fruitful as his personal life – he was an architect, designer, painter, city-planner and one of the most compelling thinkers of the 20st century. In 2013, French artist Xavier Veilhan captured the multi-faceted Corbusier in a larger-than-life bust, which startlingly appropriate in both simplicity and scale, was recently revealed in the new Palm Court of the Miami Design District.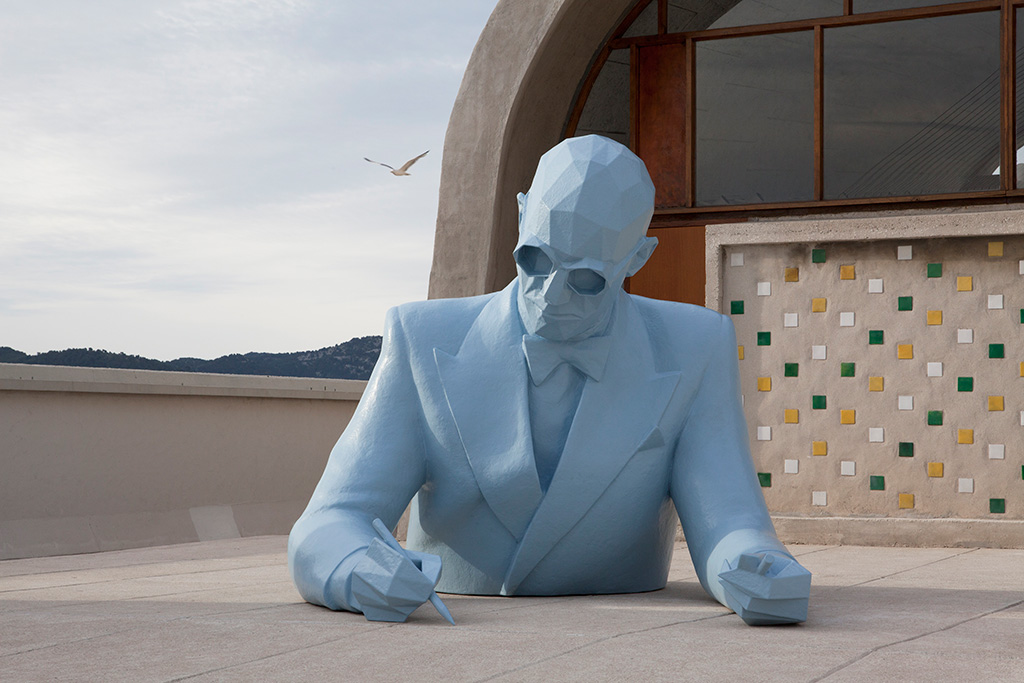 Veilhan's Le Corbusier portrays the master at work with a pen in hand. The artist explains, "Drawing serves as the link between [painting and architecture], which is why he is represented here in the process of drawing, as he can be seen in one famous photograph." This pen is symbolic of Le Corbusier's vision for Cité Radieuse (Marseille, France) – the first and most noteworthy building to apply his functionalist principles for residential living.
Made of polyurethane resin, stainless steel, polyester resin and fiberglass, the 10-foot Le Corbusier is flanked by luxury stores like Hublot, Bulgari and Jaeger-LeCoultre, glorious structures like Sou Fujimoto's aqua colored, glass facade, and a state-of-the-art iteration of Buckminster Fuller's 24-foot Fly's Eye Dome: it's as if Veilhan's installation is in conversation with the surrounding designers, architects and pedestrians of the District. Eyes cast downward, the likeness also appears focused on his task, yet is simultaneously part of the larger ecosphere that combines social, retail, dining and artful living.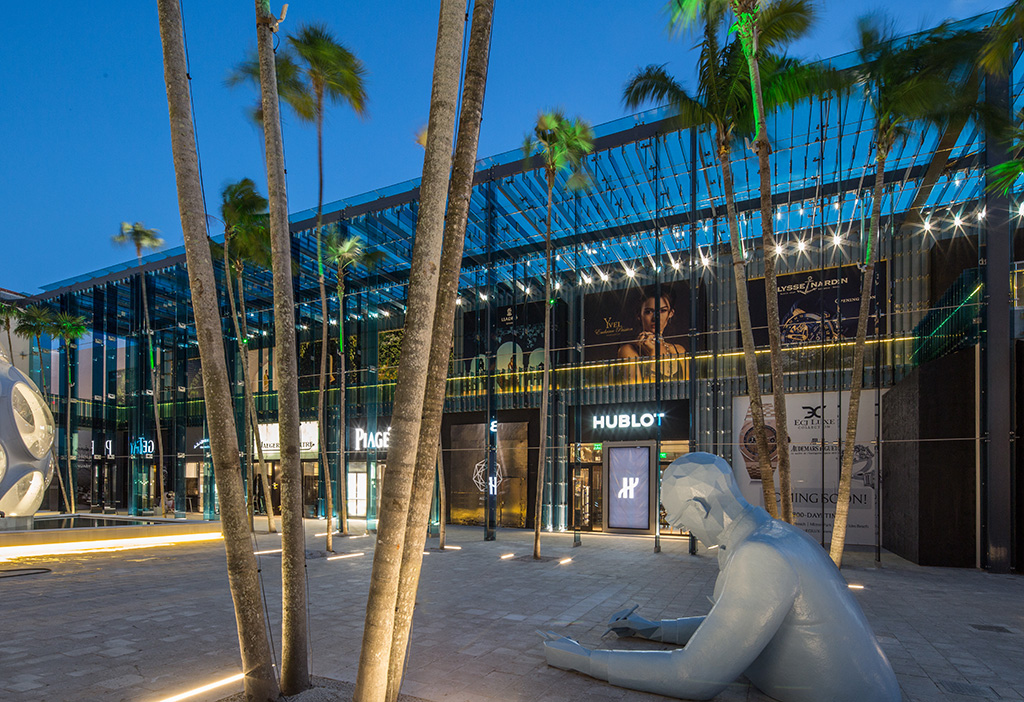 Le Corbusier's ideas are alive and at play in the Miami Design District, which this year, celebrated exponential development. Based in Paris, Veilhan's interdisciplinary work spans photography, sculpture, film, painting and installation art. Together, these creatives now hold court at the cross-section of NE 39th Street between NE 1st and 2nd Avenues (140 NE 39th Street).